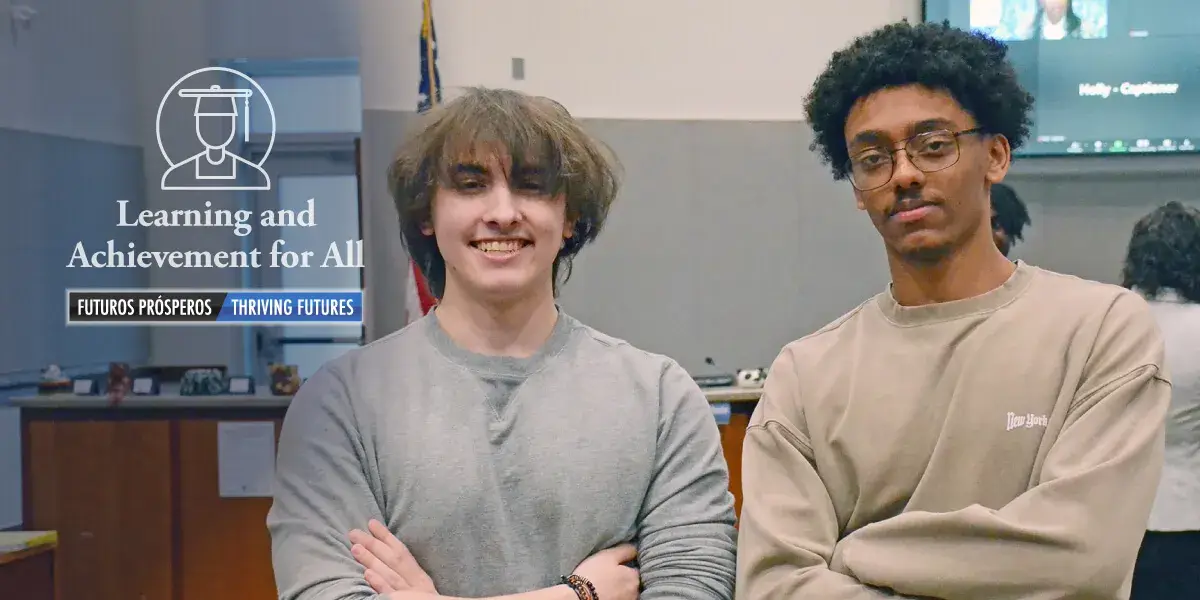 Two Patriot High School students recently earned first place at the Virginia High School League (VHSL) State Debate Championship. Seniors Jack Meador and Abenezer Fitaw won first place in the public forum category.
According to Adrienne Phillips, gifted education teacher and team coach, during the pandemic, academic sports such as debate were put on pause. The Patriot High debate program struggled to maintain a consistent team, eventually fizzling out due to a lack of legacy competitors, little willingness from students to take on extra academic work, and the departure of the team's coach. Team captains Tony Aleman and Yamini Babu prevented the program from disappearing.
Phillips regards the recent success of the team with pride: "With the number of hurdles this team had to overcome, that in two short years they made it to states, let alone won states, is nothing short of remarkable," she said.
Meador referenced mentorship as being a fundamental steppingstone in achieving the team's goals. "Mrs. Phillips has taught us not only new ways of thinking, but has brought in other connections to help understand the world and rhetoric better... A large part of that is understanding other perspectives and being empathetic, even in debate. The best way to convince someone is to make them believe that they always agreed with you in the first place," Meador said.
Debate season is September to April, so students in the program dedicate the entire year to practicing and polishing their skills. Weekly practices paired with at-home research prepare students for monthly tournaments, building up to regionals in early March. The top three teams from regionals advance to "super regionals," a tournament that determines who attends the state competition... Meador and Fitaw placed first at Super Regionals, qualifying them for the state championship, hosted in late April at James Madison University.
At the state championship, teams debate five rounds on globally and domestically relevant topics selected by the National Speech and Debate Association (NSDA). Once opposing sides (Pro/Con) are decided by a coin toss, teams proceed to debate for six to seven hours throughout the day.
Phillips noted the challenging aspects of the competition but emphasized that the positive impacts are worth the struggle. When asked why debate was important to him, Fitaw responded by saying "I used it as an opportunity to improve my speech skills, as I lacked confidence in public speaking, as well as research... Debate has provided me a foundation for the things college and the future may demand for me."
At Patriot, debate has been a creative and intellectual outlet for students to cooperatively compete while simultaneously enriching their academic capabilities. "I would recommend it full-heartedly. Even casual participation or spectating can really help get your brain going in ways you didn't expect..." Meador explained. "There is an atmosphere of both intellectualism and camaraderie that is scarcely felt elsewhere in life."
Given the state of the debate program less than three years ago, the recent accomplishments of the team are certainly worth celebrating. "There is a place for every skill, for every strength, for every interest in debate," Phillips remarked. "Having the whole state reward you with a trophy for your success along the way is the cherry on top of the sundae."