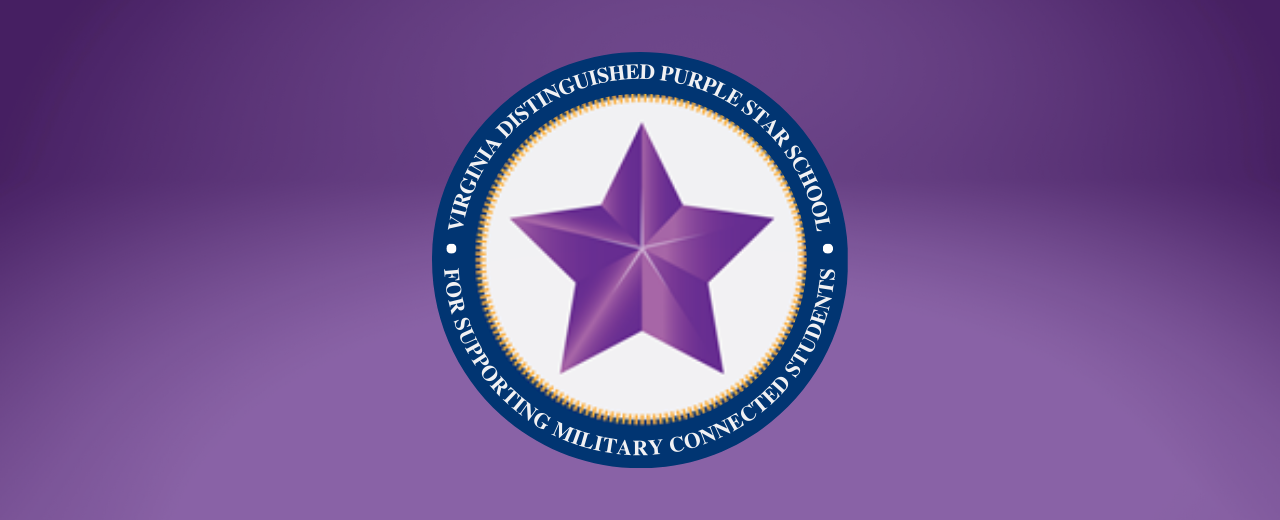 PWCS Distinguished Purple Star Schools
The Virginia Purple Star Designation is awarded to military-friendly schools that have demonstrated a major commitment to students and families connected to our nation's military. The Virginia Department of Education's Military Student Support Process Action Team (MSSPAT) formed by the Virginia Department of Education, reviews all school applications for the award.
Final approval on awards is made by members of the Virginia Council on the Interstate Compact on the Educational Opportunity for Military Children. Awards are made annually, and schools must reapply every three years. 
For more information, please contact:
Dr. Dominique James
Military Achievement Specialist
jamesd@pwcs.edu
---



Eastern Elementary Schools




Central Elementary Schools




Western Elementary Schools


Mary Williams — 2020
Old Bridge — 2020
Rockledge — 2020

 


Ashland — 2021*
Bennett — 2022
Henderson —2022*
Marshall — 2022
Minnieville — 2020
Pattie — 2022*
Springwoods — 2022*
Westridge — 2022


 


Bristow Run — 2020
Gravely — 2020
Mountain View — 2020
Piney Branch — 2022
T. Clay Wood — 2022
Tyler — 2021

 



Middle Schools




High Schools




K-8 Traditional Schools


Benton — 2022*
Bull Run — 2022
Graham Park — 2022
Parkside — 2021
Potomac Shores — 2022


 


Battlefield — 2022
Colgan — 2022
Forest Park — 2022*
Hylton — 2020
Woodbridge High — 2022*


 

Porter Traditional — 2021*
* Indicates the school is a second time recipient of the Virginia Purple Star Award