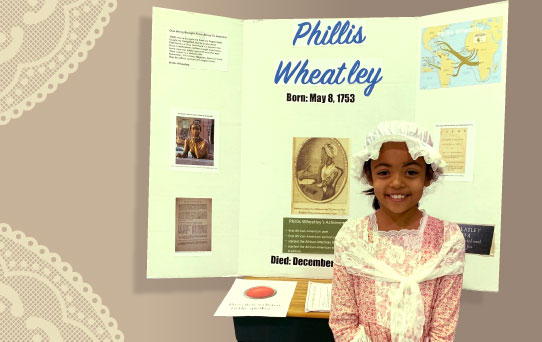 It's not every day you see Hellen Keller, George Washington, and Jackie Robinson in the same room together, but students at Penn Elementary School brought these historical figures to life for their annual reading fair.
Reading Specialist Casie Gast has organized this special event for the past three years. She expanded it this year with new options for the students to share their favorite books. It was a fun and educational night for parents and students.
"We want to make sure that we have a whole community involvement," shared Gast. "Having the parents come in and see the examples of learning that's happening builds our school community. It helps everybody come together over one cause-literacy."
Students had the option to create a main character using a tri-fold board, or they could bring their character to life by becoming part of the live wax museum. At the live wax museum, attendees visited various students in costume. By "tapping" a little button, the student in costume would share facts about the individual they studied.
Some of the other historical figures present included Phillis Wheatley, Odell Beckham Jr., Dr. Shirley Jackson, Michael Jackson, and Barack Obama.
"It felt great being able to choose this project. Odell Beckham Jr. is my favorite player and I love the Browns! I was able to read a biography and I love being able to share the information I read as my favorite football player! It was so fun," shared third-grade student Nick Sims.
Gast said, "The fair gives students accountability for being able to present something creatively that is a bit different from what they normally do in school, as well as ownership over their literacy learning."
Third, fourth, and fifth-grade students participated in the reading fair. Students in grades kindergarten through second will have a reading fair in the spring.