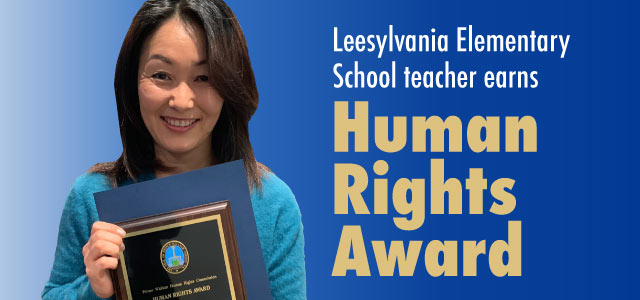 Yukiko Dove, a special education teacher at Leesylvania Elementary School, was among those honored at the Prince William County Human Rights Commission's Universal Human Rights Day Celebration. The annual event recognizes individuals in the community whose actions express and promote the principles of human rights.

Dove was recognized for being an advocate for families of children with special needs in the Prince William community. She is the founder of Prince William County Autism, a group she started four years ago after her son was diagnosed with autism. The group, which has grown to 700 families, shares resources and serves as a support system. Dove is also a founding member of Empowered Beginnings and Beyond, which provides free prenatal education classes to teenagers in the county. In addition, she serves as vice chair of the PWCS Special Education Advisory Committee.

"Being a special needs parent has brought me strength and endurance," said Dove. "As a special education teacher, I like to advocate for the introduction of more resilient families to families that may not be coping so well with their special needs child. I believe that my child with autism is a gift who brings me opportunities and helps me to learn life skills I otherwise wouldn't have learned without him."

Some PWCS students also had an opportunity to shine at the event; members of the Human Rights Student Leadership Council (HRSLC), consisting of 24 PWCS high school students, were in attendance and served as event facilitators. The students also had the opportunity to attend leadership sessions prior to the awards ceremony.