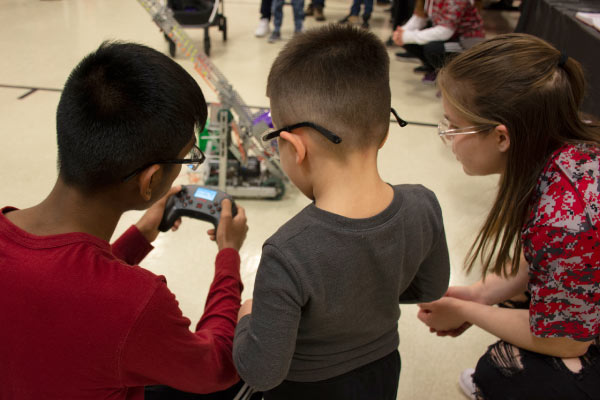 This story features a learning activity that took place prior to school closures due to COVID-19.
Organizers added an interesting twist to a Science, Technology, Engineering, Arts, Mathematics (STEAM) event, recently hosted by Chris Yung Elementary School. Attendees were not only treated to students' STEAM project displays and demonstrations, but also received a first-hand look at innovative ideas being developed by groups and businesses in the local area.

The theme of the evening was that of a journey of exploration, incorporating train tickets for students to get punched at each STEAM station they visited. Student projects from every grade-level were on display, including plant and animal hybrid creatures, underwater viewing devices, arcade games, zip lines, plant packages, and recycled toys.

Activities included building wind-powered cars, catapults, and constructing elaborate tubing lines for marble runs. Children could plant flowers, connect Lego-like parts to make unique structures, and they could even experience virtual reality. Outside organizations participated in hosting several of these activities, including Code Ninjas, Micron, Northrup Grumman, and the Prince William County Police Department, who demonstrated fingerprinting technology. Patriot High School students were also on hand to demonstrate robotics technology from their SeaPerch and VEX programs.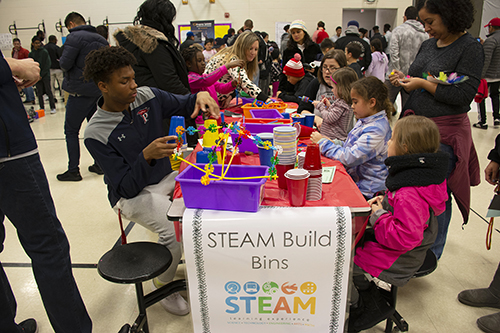 "In the Chris Yung STEAM lab, we focus on developing future work skills that include the ability to work with peers as well as technology," said Kaitlin Chidester, event organizer and Chris Yung STEAM coach. "These concepts are relevant for students beyond the classroom as well. What I love about STEAM Night is that it provides students the opportunity to showcase what they've learned, while also delivering an environment to learn from other students' experiences, and see the real-world applicability of their learning."

Once students visited all the required destinations and acquiring the necessary punches, they could turn in their ticket to be eligible for prizes donated by Code Ninjas, Sweet Zen, the school Parent Teacher Organization, STEAM games, Magnatiles from the Science Center and event school gear donated by parents.

The collaboration between school staff, student helpers, and participating organizations, helped families transition smoothly from station-to-station throughout the evening. As families headed to their cars, proof of the impact the evening had could be heard as both child and parent enthusiastically discussed which displays were their favorite.