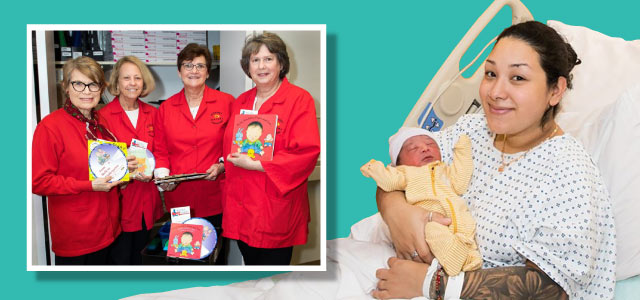 Every baby born at Sentara Northern Virginia Medical Center (Sentara) will now leave the hospital with a new children's book, and a developmental milestone guide and other early learning resources for parents, thanks to Smart Beginnings Greater Prince William (GPW). Smart Beginnings GPW, which operates under SPARK, the Education Foundation for PWCS, advocates for quality early childhood health and education programs and works with parents, educators, health providers, and businesses to deliver those resources. Books4Babies, a program of Smart Beginnings GPW, helps achieve that mission.

All books are provided by Bookworm Central, a valued Smart Beginnings GPW partner that has also provided leadership and financial support to the Books4Babies program since its inception in 2013. The new program at Sentara begins with six trained volunteers, coordinated by Linda Trexler and Pam Emert of Smart Beginnings GPW, who will help ensure parents know the many benefits of reading aloud to children, beginning in infancy. Because 90 percent of a child's brain is developed by age five, children who start school prepared are more likely to experience success throughout their school career and at work.

"With the addition of Sentara to the existing Books4Babies programs already in place at Novant Prince William Hospital and Novant Haymarket Medical Center, our goal of providing resources to the parents of every baby born in Prince William County is well on its way," said Tawnya Soltis, executive director for Smart Beginnings GPW. "Research from the American Academy of Pediatrics shows that reading regularly with young children stimulates optimal patterns of brain development and strengthens parent-child relationships at a critical time in child development, which, in turn, builds language, literacy, and social-emotional skills that last a lifetime."

The launch of Books4Babies at Sentara has been made possible through generous donations from the Sentara Medical Executive Committee and the Lake Ridge Rotary Club as well as numerous community donations.
Learn more about how to support Smart Beginnings GPW by joining First Lady Pamela Northam and Dr. Mark Ginsberg, dean of the College of Education and Human Development for George Mason University, at the Early Childhood and Workforce Development breakfast to be held 8-10:30 a.m. on Monday, March 23, 2020, at the Hylton Performing Arts Center. For further information, please contact Tawnya Soltis at tawnyasoltis@smartbeginningsgpw.org.

Contributions to the Sentara Books4Babies program can be made through SPARK:
Online: Visit the SPARK website, choose the pencil icon, and select "ADD special instructions to the seller" to designate your contribution to B4B-Sentara or Smart Beginnings GPW
By check, please note in memo line: Books4Babies-Sentara and mail to:
SPARK, the Education Foundation for PWCS, P.O. Box 389, Manassas, Va. 20108
SPARK is the operating name of the Prince William County Public Schools Education Foundation, (FE ID# 54-1498824), a 501(c) (3) nonprofit organization. Your contribution is tax deductible to the full extent allowed by law.