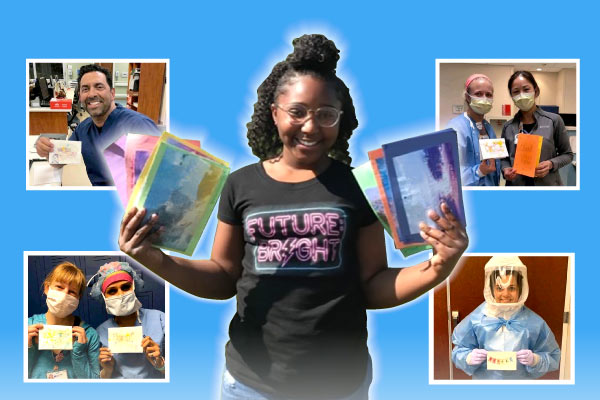 For the past few months, healthcare workers have been on the frontlines in the fight against the COVID-19 virus. Prince William County Public Schools students are hoping that a thoughtful card or letter of thanks can provide healthcare workers the motivation needed to push through long, tiring shifts.
Bull Run Middle School sixth-grader Zoe Moser and her mom, Shamika Moser, traveled to Kings Mountain, North Carolina to quarantine with family members. The mother and daughter lived in that area before moving in 2014. After attending a virtual church youth group meeting, Zoe was inspired to make and send cards to healthcare workers at three assisted living homes in Cleveland County, North Carolina. She also made cards for residents who are not able to have visitors during the health crisis.
Zoe said, "It's my goal to make people feel better, one card at a time." So far, she has created and sent 40 cards. Her mom said, "My daughter has inspired me not to panic during this time, but to instead, spread love and cheer."
Bull Run Middle Principal Matthew Phythian is very proud of Zoe. "I am inspired about Zoe's empathy and compassion for others during a difficult time in our nation. It is always exciting to see students act on a dream and see the positive impact that it has on others in the community," he said.
Battlefield High School's Key Club members also took part in the card and letter-writing efforts, sending their appreciation to local healthcare workers. Cards were delivered to staff at Novant Health Medical Center in Haymarket. Key Club sponsor Mary-Beth Starkey also mailed some to a friend who works as a social worker at a hospital in Chicago, Illinois, one of the hardest hit locations of the pandemic. Fellow Key Club sponsor Elizabeth Bereczki also sent some to the medical staff working in the COVID-19 unit at the Virginia Hospital Center in Arlington and to her mom, who works in the medical records department at Allegan General Hospital in Allegan, Michigan.
Club secretary and sophomore, Emma McMurrer, said, "I made the cards to put a smile on our community members' faces and to thank all of the healthcare workers who are saving lives with their heroic acts. I thought this was an amazing way to help our community while social distancing."
Classmate and fellow sophomore, Michelle Kim, added, "I wanted to let them know how appreciated they are and how valuable their work is for the community. I also hoped that these words of gratitude and encouragement would give them strength and remind them of their importance."
Word about the cards made by the Battlefield Key Club spread. "We received a forwarded message to our social media from Arbor Terrace Sudley Manor, a senior living facility. They were requesting cards, artwork, letters, etc. for patients during this time, since visitor numbers have decreased due to COVID-19," Starkey shared. Always ready to serve, the Key Club jumped into action, creating another batch of cards for the Arbor Terrace residents.
"The impact to me in seeing our students contribute to their community during this time is immense. I hope our members gain the knowledge that though life may be filled with extreme disappointments and hardships, there is always a way to make the best of a situation and to help those who circumstances are not as positive," Starkey shared.
Even some of the School Division's youngest students are involved in this kind gesture. In a virtual class meeting, Marshall Elementary School third-grade teacher, Cyrene Reyes, talked with her students about the job of first responders. She encouraged students to write letters of thanks to those who put themselves at risk while helping others. Students read and talked about the letters that they wrote during a virtual class meeting. Initially Reyes planned to share the letters on social media, but Sarah Lui, the parent of a student, volunteered to help with the project. Students mailed their letters to Lui, who will deliver them to Sentara Hospital.
"I hope my students will be more appreciative and kinder to the people around them. It is my hope that they realize that no matter how bad a situation is, it can get better when people work together," Reyes shared.