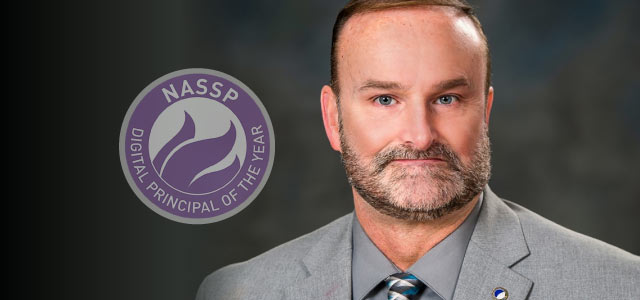 The National Association of Secondary School Principals (NASSP) has named Robert Eichorn, principal of Independence Nontraditional School, a 2020 Digital Principal of the Year.

"[The 2020 Digital Principals of the Year] are exceptional examples of school leaders who have embraced technology to reshape how education is delivered and personalized to ensure the success of each child, and we are proud to recognize them as the 2020 NASSP Digital Principals of the Year," stated NASSP Executive Director JoAnn Bartoletti. "In light of the COVID-19 pandemic, we are especially grateful to leaders like these who pave the way by using technology to increase equity and access to educational opportunities and enhance the impact and reach of great teaching."

Rita Goss, associate superintendent for student and professional learning, said "Mr. Eichorn's bold leadership exemplifies true advocacy for the success of each student. He consistently leads his team to collaboratively promote and utilize innovative digital resources to ensure equitable access to learning opportunities for the students at Independence Nontraditional School."

As part of the award, Eichorn will receive an expense-paid trip to the annual national NASSP conference, have an opportunity to speak at the National Principals Conference, and be featured on the cover of "Principal Leadership" magazine.

The NASSP website describes The Digital Principals of the Year as a program that "honors principals who exhibit bold, creative leadership in their drive to harness the potential of new technologies to further learning goals." Criteria for the award are based on the International Society for Technology in Education Standards for Administrators and the applications of those skills to further NASSP's Building Ranks™ framework for school improvement.

Congratulations to Principal Eichorn on this honor. Thank you for your hard work and dedication for our students!