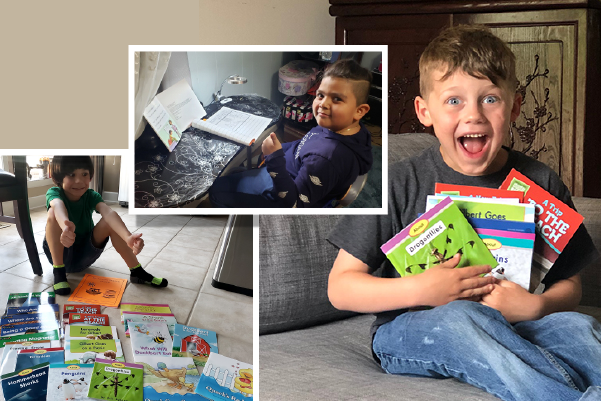 Each year, Title I funds the Summer Thrive program a preventive measure designed to provide continued learning during the summer break. This funding provides every Title I teacher specialist with 50 pre-created packets of reading or math materials. The teachers determine which students should receive packets based on school data and the needs and abilities of the students.
In addition to providing the materials, teachers connect with the families of each student to explain the importance of summer learning, review materials, provide ideas and suggestions, ask and answer questions, and get feedback from parents.
"Research shows that family engagement helps students' achievement and this is something we believe in. We build in the meeting components to help with making that connection with the families and to help them achieve the goal of using the materials over the summer," said Theresa Dawkins-Smith, Title I family engagement and early childhood specialist. The program also allows each school to build in a component to offer help with a check-in over the summer.
Dawkins-Smith added, "This year, our approach to the Summer Thrive program had to be different. Reading and math materials are being mailed home to each student and family engagement meetings to discuss the importance of summer learning, practice with the materials, etc. will be held virtually. Each school team will design how they want to present the information."
Prince William County Public Schools has 27 Title I elementary schools with either a reading specialist or a reading and math specialist. Depending on the number of specialists in the building, a Title I school might distribute between 50 and 200 academic support packets. A reading packet includes a leveled collection of books along with a student response journal. The math packet offers a journal workbook filled with games and tasks leveled to the student's needs. The packet also provides the students with the math manipulatives they need for these games and activities.
At the three Title I middle schools; 50 previously selected students will receive math packets. One hundred students will be able to "shop" and select three books on the Bookworm Central website, with the guidance of their teacher. Summer Thrive is expected to provide books to 2,125 students this year and 1,450 students can expect to receive math games and activities.
Title I is the largest federally funded educational program in the nation. This program provides supplemental funds to school divisions in order to assist targeted schools with the highest concentrations of poverty towards meeting educational goals.