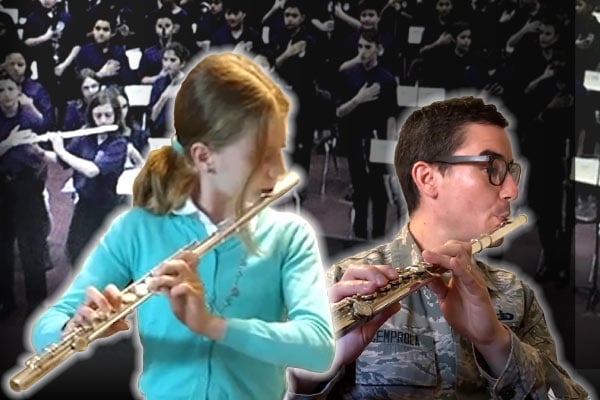 The school year ended before spring concert season, but members of the U.S. Air Force Band gave students the chance to perform. Benton Middle School rising seventh-grader Helena Spivak was chosen to participate in a duet with Tech.Sgt. Mike Cemprola.
Through their Facebook page, the U.S. Air Force Band advertised their "Duet Initiative." The post called for young musicians to submit video performances. Spivak sent a video of her rendition of a rearranged version of the song "A Tale as Old as Time" from the movie "Beauty and the Beast." The video was selected and paired up with fellow flutist Cemprola.
Spivak took piano lessons for a year, then played the cello in fifth-grade at Ashland Elementary School. A month after starting sixth grade at Benton Middle, Spivak switched to playing the flute.
For the U.S. Air Force Band duet, Spivak wanted to perform "Friend Like Me" from the movie "Aladdin," but Benton Band Teacher Michelle Rupert explained that they could not find a duet version for Helena's skill level.
"She is a very self-motivated student and is always seeking out extra music to work on and musical opportunities to participate in. Her composure, confidence and musical maturity absolutely amaze me," Rupert shared.
For Benton's winter concert, Spivak not only learned to play the "National Anthem," but she memorized it.
Spivak has a connection to the U.S. Air Force. Her father is currently a lieutenant colonel and her mother was commissioned from the Air Force Academy, then separated in 2007 at the rank of a first lieutenant.