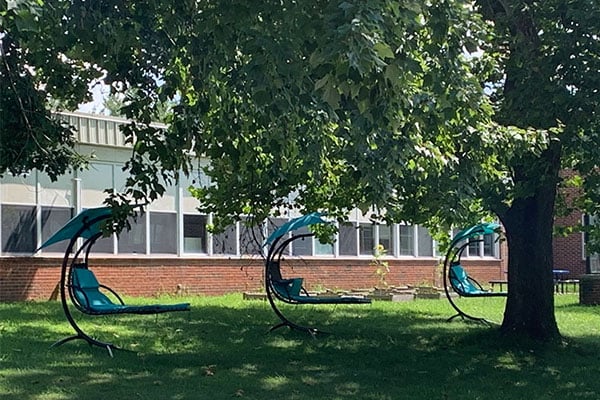 School may have just started, but one look in the outdoor courtyard at Parkside Middle School will have students and staff thinking about taking a break. That's because Principal Dr. Mary Jane Boynton knows how important it is for everyone to have time to recharge during their school day.
Before the start of school, Boynton had six reading hammocks set up in the enclosure under the trees as a restful sight that would welcome the employees and approximately 30 students who would be in attendance for the first quarter. The swinging loungers are meant to be used by teachers for reading and relaxing with a book during their breaks or for independent reading time by students.
"Dr. Boynton is an avid reader of all things education and came across multiple articles about the importance of self care for students and teachers during this difficult time," said Matt Smith, assistant principal at Parkside Middle. "She wanted to provide a place to go outside and relax when most of the day they will be inside for those who attend the first quarter."