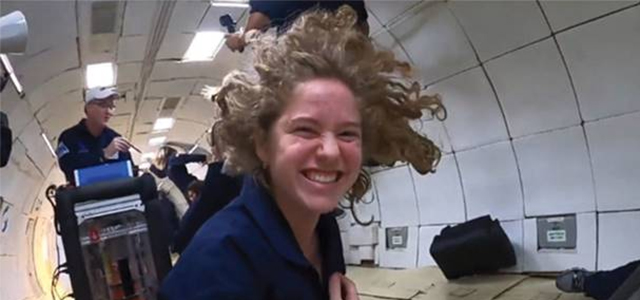 Forest Park High School and Governor's School @ Innovation Park student Eleanor Sigrest won the 2020 Design/Build/Launch competition held by the American Institute of Aeronautics and Astronautics (AIAA) in partnership with Blue Origins. The competition provides a high school student or team with the opportunity to send an experiment into space on Blue Origin's New Shepard Rocket in 2021. Sigrest's project will be the first AIAA-sponsored payload to go into space.
Sigrest created a proposal which outlined the value of her research on improving fluid management through a novel microgravity slosh mitigation technique.
"The proposal effort was comprehensive and required an experimental design, as well as the justification for suborbital flight, schedule, cost sharing, and budget," shared Sigrest
The competition has helped Sigrest network professionally with engineers at the National Aeronautics and Space Administration (NASA), as she continues to research her proposal to increase its Technology Readiness Level (TRL), which is a measurement of its readiness for an actual space mission.
"I have planned additional experiments to increase the TRL and continue to bring this new method to practice. I've submitted a proposal to NASA for additional parabolic flights to collect data elements with different variables," Sigrest said of her future plans for the project.
Sigrest dreams of one day becoming the first person on Mars, and feels this win puts her one step closer to that goal.
If Sigrest's experiment is successful, it could simplify space travel, increase payload capacity, and save the space industry billions of dollars. To her fellow classmates she says to "be bold, be inspired by a real-world problem. We may be in high school and may not have PhD's yet, but we see things differently, which is the perfect ingredient for innovation."