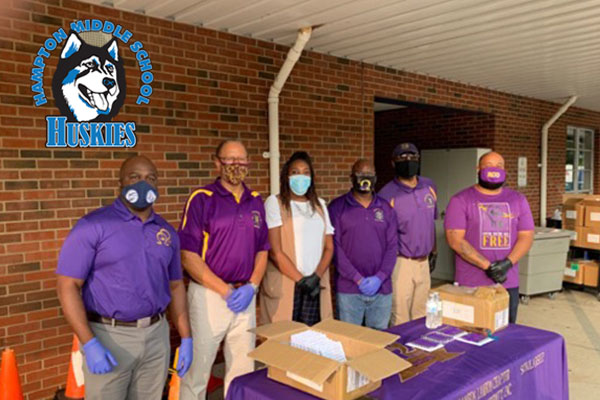 Hampton Middle School has always had close ties to the Pi Lambda Lambda (PLL) chapter of Omega Psi Phi, the first international fraternal organization founded on the campus of a historically Black college. Hampton Middle's namesake, Dr. George M. Hampton, is the oldest living member of the chapter.
When the COVID-19 virus canceled this year's traditional back-to-school supply drive and backpack give-away for students at Hampton, the brothers of Omega Psi Phi found new ways to support Hampton students.
"This year the chapter donated flash drives for each student at a cost of $2,000," said chapter president, Jeffrey W. Allen.
"Because a large number of our students are using school-issued devices for virtual learning, we thought it would be an awesome idea to give students flash drives to save their work," added Rachel Preston, assistant principal at the school.
The PLL chapter operates a non-profit affiliate known as the George M. Hampton Foundation.
"The Foundation also made its annual donation of $2,000 that supported the purchase of online programs, school supplies, and access to technology," said Allen.
In a letter sent to the Foundation by Hampton Principal Jehovanni Mitchell, she acknowledged the technology goals for the donation.
"The amount of quality instructional time is one of the most powerful variables in determining student learning," Mitchell said, adding, "To increase access to the internet and make up the loss of instruction [from the spring,] George Hampton Middle School would like to provide MiFi wireless routers [to students] for internet access."
A new donation, announced just recently by PLL, will support arts education at the school.
"This organization's foundation has just pledged a $7,000 donation to purchase ukuleles for the music department," said Preston.
Allen stated that the donations are an ongoing commitment by the PLL chapter to support the students at Hampton.
"We have continued every year providing donations from the chapter and the foundation, as well as providing student mentoring through our Omega U program," Allen said, adding that he hopes the donations "will benefit and enhance the lives for as many students as possible."
"It is so important to partner with community organizations because we want our students and parents to know that we are a family," said Preston. "Working together and pooling our resources allows us to service so many more families," she added, also stating, "We are thankful that our school's namesake, George M. Hampton, is a member of Omega Psi Phi Fraternity, Inc. This really created a bond between their organization and our school."