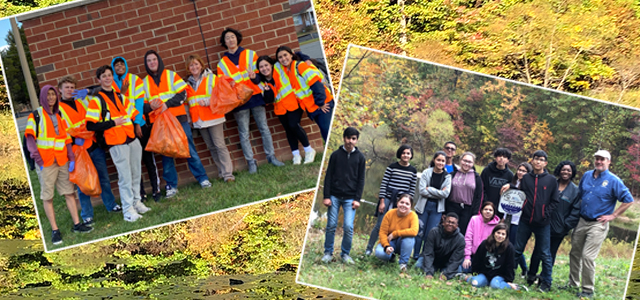 Freedom and Patriot High Schools have been chosen to benefit from a $149,000 grant from the National Oceanic and Atmospheric Administration's (NOAA) Marine Debris Program. George Mason University (GMU) and Keep Prince William Beautiful will administer the grant. The School Division's Energy Management and Sustainability Team (EMAST) assisted the schools in earning this opportunity and will help coordinate the activities associated with the grant.
Freedom High Biology Teacher Jessica Dorion and Patriot High Earth Science Teacher Melinda Landry will lead 20 teachers and 35 high school student delegates in a project that focuses on single-use plastic water bottles. The project will span two years with the first year primarily spent learning about the watershed, aquatic life, data collection and analysis, and behavior management. The second year will involve student-led project-based initiatives to educate the community on the understanding of marine debris and how debris becomes part of the aquatic ecosystem.
The grant aligns well with the curriculum taught in Freedom's Center for Environmental and Natural Sciences (CENS) specialty program and lessons teachers at Patriot conduct using their recently transformed outdoor classroom that features a natural pond/aquatic area.
EMAST will help both schools facilitate and coordinate the project activities. "Our community partners have a shared vision of a sustainable Prince William County and conserving resources and the environment. It is our students who will carry on this work now and into the future," said Jeanne Jabara, EMAST energy education coordinator.
Landry shared, "It's exciting to be recognized by NOAA for our efforts in PWCS. With the financial assistance from NOAA and the expertise from others in our community, I'm hopeful that we can make a difference in the amount of single-use plastic waste making its way to our watersheds through education of our youth."
In the fall of 2019, Freedom adopted the stormwater drainage pond on their school grounds. The adoption, coordinated through the Prince William Soil and Water Conservation District (PWSWCD) and Prince William County's Department of Public Works Watershed Division, provided the students with guidance on the clean-up.
"Students learned how trash on their own campus could have an impact on wildlife as far away as the Chesapeake Bay. They saw firsthand that most of the trash collected was plastics, specifically plastic beverage bottles," Dorion shared. This project made students more aware of the overuse of plastic bottles within their school and sparked their interest in reducing single-use plastic waste. The grant money from NOAA will help students continue their efforts in teaching others about the importance of how marine debris effects watersheds.
For more information on the work that PWCS students will be involved in through participation in the program, check out NOAA's Marine Debris Program account on
Twitter
,
Facebook
and their
website
.