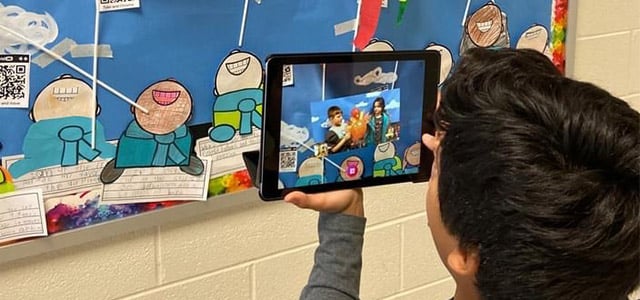 Microsoft has selected Kyle Wilson Elementary School as a 2020-21 Showcase School. The recognition is a result of the school's commitment and success with using technology in teaching.
Gretchen Drzewucki, principal at Kyle Wilson Elementary shared, "Being selected as a Microsoft Showcase School is an amazing honor and recognition of the passion our teachers and staff have for creating the best learning environments possible. We look forward to sharing our experiences with other schools in our community and the world to continue finding innovative ways to equip our students with the proper tools needed for success inside and outside of the classroom."
In the past year, several Kyle Wilson teachers and staff members became certified users in Flipgrid and Nearpod applications. Teachers have been using these Microsoft applications to increase student engagement and maximize collaboration across all grade levels.
The Flipgrid application requires students to participate in an activity using videos. For example, a teacher poses a question, then students post a response in video format. The responses are arranged in a grid for all participants to view.
Nearpod is a student engagement platform that teachers can use to create presentations that can contain quizzes, videos, pictures, web content, and more. This application provides teachers with immediate feedback on student comprehension.
"Nearpod is a great tool for synchronous and asynchronous learning because teachers can launch a live lesson offering real-time feedback or enable the student-paced setting that allows students to work at their own pace," Instructional Technology Coach (ITC) Semret Tseggai explained.
"Microsoft Showcase Schools are shining examples of those applying purpose-driven innovation in a variety of ways to build connection, motivate students, and create a community in and out of school," said Anthony Salcito, Microsoft's vice president of worldwide education. "These schools are truly transforming learning and providing more personalized education to students, empowering them to achieve more," he added.