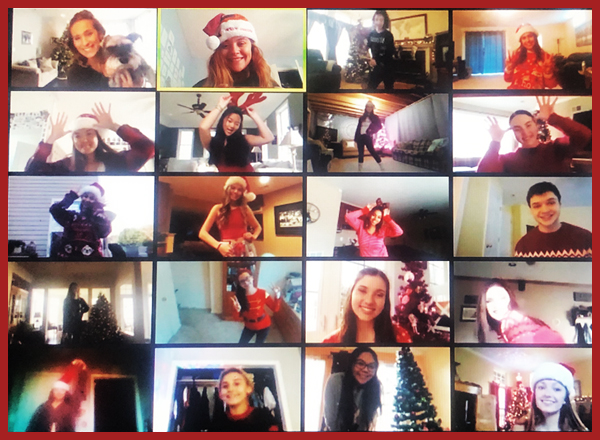 Charles J. Colgan Sr. High School Dance Teacher Jamie Howes infuses creativity and expertise into every lesson she provides her students. This hasn't changed now that her dance instruction is conducted online.
"Although virtual learning has been challenging, I have to say that things are going as well as they possibly could in these circumstances," shared Howes. "At the beginning of the year, I charged [my students] with being a part of the movement to carry our art form through this trying time and they have answered the call effortlessly."
Her students' enthusiasm for dance comes from Howes' ability to find new and interesting ways to keep students engaged and performing.
"So far, we have done a few virtual get-togethers, where our dancers are put into 'families' and each family re-creates a popular TikTok dance," Howes said. "We are also organizing dance movie nights via Zoom, as well as a few master classes with working professionals," she added.
Among the unique experiences Howes arranged for her students is a virtual dance gala with the Paul Taylor Dance Company. After watching several performances, students heard from dancers and directors about the challenges and opportunities they have faced during the pandemic.
She explained that even though the students cannot be together, they can still come together virtually to share the art of dance with others.
"We will be teaching a virtual class to the patients at Children's National Hospital in D.C. through Seacrest Studios," Howes shared. "We have done this every year in person and we wanted to continue regardless of the circumstances. We are thrilled to bring a little joy and a lot of movement to those brave kids at Children's National."
Howes also mentioned that even when the class is not performing for others, the students are just as engaged.
"My dancers are dancing in their kitchens, bedrooms, and basements, using chairs and walls for ballet barres, but day in and day out, they show up, cameras on, full dress code ready to work," she said.
Howes credits the dance community in general with the resiliency she sees in her students.
"The dance community, as a whole, has been so innovative and relentless through this time," she said. "I thought it was important to show our students how the arts can continue to serve audiences, create, and thrive in this virtual world."