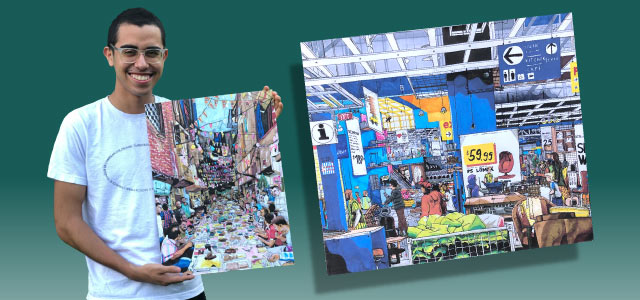 The below story was updated on January 26, 2021, to add the College Board AP Program announcement of the online availability of the 2020-21 Advanced Placement® (AP) Art and Design Exhibit and the Osbourn Park High School news release that shares details about Manuel Guerrero Zdeinert, Class of 2020, who is featured in the exhibit.
Artwork by Manuel Guerrero Zdeinert, a 2020 graduate of Osbourn Park High School, has been selected for inclusion in the 2020-21 Advanced Placement® (AP) Art and Design Exhibit. The exhibit is produced annually by the AP Program to honor and celebrate outstanding AP Art and Design students. Zdeinert was among only 51 students whose work was chosen for exhibit out of 63,000 portfolios. Even more exceptional is that Zdeinert is one of only 11 artists to have multiple works chosen; five of his pieces were selected. Because of the pandemic, this year's exhibit will be entirely digital.

Jennifer Marshall-Greeson, Zdeinert's teacher and the visual arts department chair at Osbourn Park High, said, "This is a huge honor, especially this year, with significant changes to AP Studio Art and very unclear expectations...I found out Manuel was chosen during my AP Studio Art training, and the woman leading the training has selected Manuel's work! Manuel grew up in the Osbourn Park art department. He made it his mission to improve his marker technique this year. He refuses to rush a piece and it is always done to the absolute best of his ability...Where most students struggle with backgrounds - Manuel excels."

Zdeinert says he was always in his element in the art room but also takes with him many great memories from his extracurricular activities in high school as he goes on to college. Although he was accepted to his dream school, Pratt Institute in New York, he said he will attend Virginia Commonwealth University to seek a degree in illustration. He also is looking at the audio engineering field based on an emerging interest in music composition and production.

"I really enjoyed my time at OP, toward the end especially," shared Zdeinert. "I am extra fond of my memories on the tennis, cross country, and track teams, as I made varsity in my first cross country season and became a track captain as a senior. I broke five minutes in the mile at the end of my winter season this year, which would ultimately become my last ever high school race. From the football games to being in my element in the art room, really the only thing I'd say of the past is I wish I could change the abrupt end that my senior year came to."