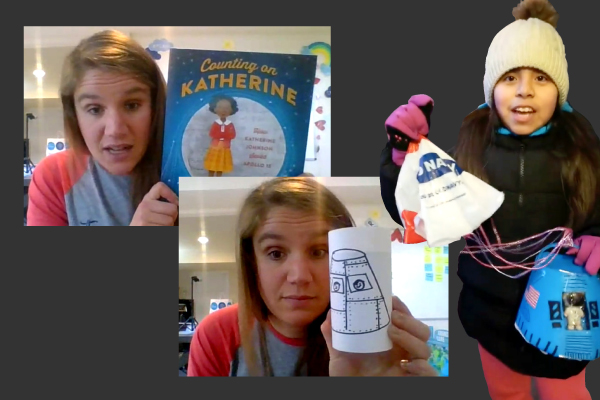 Students at Chris Yung Elementary School channeled their creativity and critical thinking skills, as they celebrated Black History Month with two science, technology, engineering, art, and math (STEAM) challenges.
For their February schoolwide STEAM challenge, Kaitlin Chidester, Chris Yung's STEAM coach, focused on Katherine Johnson, a Black American mathematician whose efforts saved Apollo 13. To first help students learn more about her endeavors, they read "Counting on Katherine: How Katherine Johnson saved Apollo 13" by Helaine Becker.
"Katherine Johnson's life is an example of persistence and perseverance that can really resonate with our students. Our students' dreams and aspirations will not come to them easily," said Chidester. "[Katherine Johnson] kept 'counting on' and fighting for what she believed in. Through our STEAM challenges, we hope that students are given opportunities to persist and persevere much like Katherine Johnson," she added.
Students were challenged to save their own "space capsules," which could essentially be a drawing of a capsule attached to a full soup can. They were tasked with using no more than 10 items to protect their "space capsules" after it's dropped from a height between eight to 25 feet.
Even though the students may not have found success right away, they learned the importance of moving forward with their ideas and not giving up.
Pharrell's new song "Entrepreneur" is about Black American--owned businesses and initiatives in the United States. In partnership with Amazon and CodeVA, Pharrell challenged students to remix the song with their own voices using code through the program EarSketch. This contest is supposed to show students that they have the power to make a change in our world using music.
The fifth-grade students coded their own songs, using EarSketch to create their own unique version of that song that can be anywhere from 30 seconds to three minutes.
Chidester shared, "Challenges like 'Your Voice is Power' give students a chance to connect with others around the country. They can see that their thoughts and ideas will travel beyond the walls of Chris Yung."