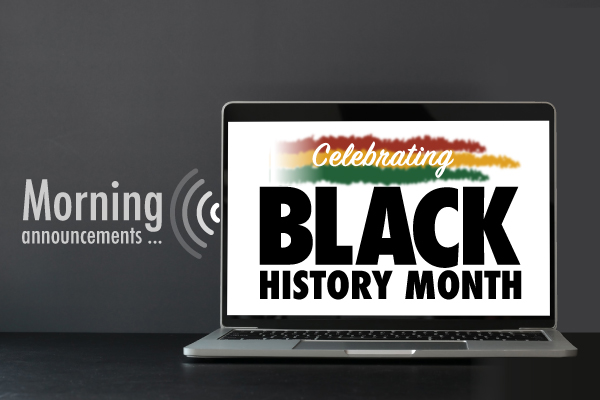 Covington-Harper and Bel Air Elementary Schools, and Graham Park Middle School use their morning announcements to celebrate Black History Month. The activities involve encouraging students to read about historical Black figures and sharing facts about their significant contributions.
Covington-Harper Elementary students were given access to audiobooks through Canvas. The books included "The Secret Garden of George Washington Carver" by Gene Barretta, "When Martin Luther King Jr. wore Roller Skates" by Mark Andrew Weakland, and "Brave Ballerina, The Story of Janet Collins" by Michelle Meadows. On the morning announcements, guest teachers read a clue about a famous Black American. Students submitted their answers, then they were eligible to win a gift card from Chick-Fil-A.
Bel Air Elementary Principal Antoinette McDonald used her school's morning announcements to share personal history about her grandmother. Dorothea Lee Evans Parker not only served her community as a school crossing guard and a cub scout den mother, but she also made history when she became the first African American Deputy Sheriff in Allegheny County, Pennsylvania.
Graham Park Middle has been using their morning announcements to connect with their school community all school year. During the month of February, student anchors share facts and videos about historical Black Americans and events in Black history.
Throughout the school year, the virtual setting has provided the opportunity to invite guests to their morning announcements. Speakers have included a biologist and pre-medical student from Howard University, and the chief of the Cheroenhaka (Nottoway) Native American tribe. In November, U.S. Army Brig. Gen. Milford Beagle Jr. joined the morning program to share information about growth mindset and character traits for success. To celebrate Black History Month, local artists Delores Bumbrey and Anthony J. Silver, Dr. Ayanna McCray, pediatrician, and Poet Laureate of Prince William County Kim Miller have joined the program.
"It is important for all students to experience and be exposed to culture and careers. Our guest speakers have lived experience as well as rich educational backgrounds. As a result of being in the virtual environment, guest speakers are more accessible and flexible," Principal Maria Ramadane explained.
Teachers are highlighting Black History by incorporating it into lessons. Jan Dicus Green, a visual arts teacher at Graham Park, focused on Harlem Renaissance artists throughout the month in her lessons. Shannon Anthony, sixth-grade language arts teacher, is promoting the book "Black Brother, Black Brother" by Jewell Parker Rhodes to her students. Graham Park School Librarian Monica Abrams is sharing books by African American authors. "Genesis Begins Again" by Alicia Williams and "Before Ever After" by Jacqueline Woodson were available for curbside pick-up, while Jewell Parker Rhodes' "Ghost Boys" and Nikki Grimes' "Garvey's Choice" were eBooks provided to students.
A schoolwide writing prompt will continue the learning. Starting with the phrase "Because of them we can," students wrote about an African American that has made or is making an impact in math, science, language arts, social studies, and encore class subjects. The writings will be shared in an upcoming edition of "The Lion's Roar" the school's library newsletter.
"As educators, we recognize the power of exposing students to rich diverse experiences. I am confident that the variety of activities will spark a desire to learn more. We live in a diverse world and it is that diversity that makes Graham Park such a special place," Ramadane shared.