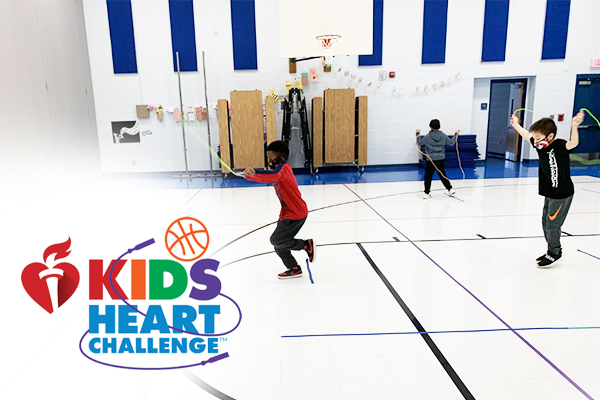 Participating in the annual Kids Heart Challenge is a tradition in schools throughout PWCS during February's American Heart Month celebration. The service-learning program provides students and their families with heart health information and the chance to raise money for life-saving research and educational funding for the American Heart Association.
At Henderson Elementary School, physical education teachers, Kristin Snead and Chris Ferranti, set a goal for 425 students to participate in the challenge, roughly half of the student population.
"In the past Henderson Elementary has always exceeded the goal with flying colors," Snead and Ferranti noted.
To participate, students choose a healthy goal for the month of February. Goals can be as simple as drinking more water or being more active. Once they have picked a challenge, they receive a red wrist band to remind them to stay focused on completing their goal.
"In physical education class for the entire month of February all students at Henderson will be taking part in activities that are related to the event," said Ferranti. "Students are also encouraged to donate to the American Heart Association to help fund research," added Snead.
Snead and Ferranti hope that students take away more than just knowledge of how to stay healthy and build physically active lifestyles.
"Students can learn the importance of teamwork and helping others while building their own self-esteem in a fun and exciting way," Snead said. Ferranti added, "The Kids Heart Challenge prepares elementary students for success by supporting their physical and emotional well-being," also saying, "We hope that students learn that they can be heart heroes by participating, donating if able, and raising awareness."
To learn more about the Kids Heart Challenge, visit the
American Heart Association website
.