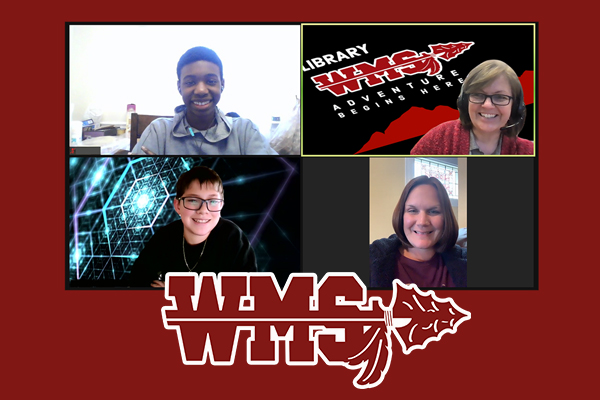 No one disputes that the school library is the heart of every school, and when Woodbridge Middle School went to online learning, that heart kept beating. Co-school librarians Beth van Kan and Jennifer Peel, along with the library media assistant, Sholonda Conner, strategized about innovative ways to keep the school community connected.
What evolved was an idea to create a community podcast. With the support of Angela Owens, principal at Woodbridge Middle, the "In It to Learn" podcast now airs weekly episodes that focus on a variety of the school community's interests with the goal of keeping our school community connected.
Featured guests have been School Board members, students, teachers, parents, and local area business partners engaged in conversations who make listeners feel like they just dropped by the school's library.
"I really enjoy listening to the podcast. Being virtual is challenging because I love to connect with the students. Listening to the podcast allows me to feel a little more connected to the school and student body," said Dr. Cowell, director of student counseling at Woodbridge Middle.
The "In It to Learn" podcast is a significant and innovative way to keep the heart of Woodbridge Middle beating with conversations that are accessible to all community members.
"The WMS "In It to Learn" podcast has been an invaluable resource for helping build a sense of community and create social connections. It reminds staff, family, and students that they are never alone. Our Woodbridge family is always here," shared Briana Barker, business education teacher at the school.
You can join by listening and subscribing from your favorite podcast hosting site today.