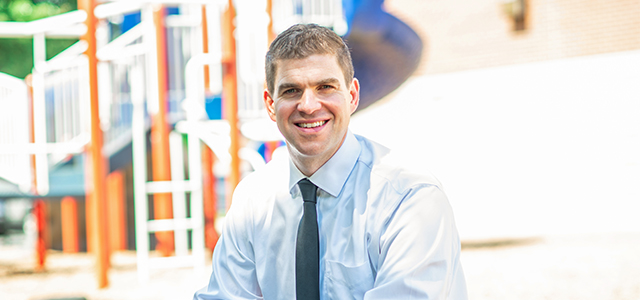 Ashland Elementary School Principal Dr. Andy Jacks has been named a senior fellow for the
National Association of Elementary School Principals (NAESP) newly formed Centers for Advancing Leadership
. Jacks is one of only nine administrators selected to be fellows from across the nation and is the only senior fellow; as such he will help oversee all four of the leadership centers. His reputation and experience as a demonstrated leader, combined with his exemplary commitment to his profession, position Jacks to make meaningful contributions to the four new centers, which are intended to create experiences for the nation's school leaders to broaden and deepen their learning. The NAESP fellows, through the work of the centers, will enhance educational opportunities for school administrators who share a passion for looking at topics from diverse perspectives.
Dr. L. Earl Franks, executive director of the NAESP, in an announcement letter to PWCS Superintendent of Schools Dr. Steven L. Walts, said that, as an NAESP fellow, Jacks "will facilitate learning and professional growth related to current and emerging issues; identify and share best practices based on research; promote the essential leadership role of the principal; and create a network of colleagues with an interest in expanding their learning."
Jacks joined PWCS in 2001 as a fifth-grade teacher at Kilby Elementary School. He went on to help open Buckland Mills Elementary School as its assistant principal in 2006 and became principal at Ashland Elementary in 2010. Under his leadership, Ashland has earned the Distinguished Achievement Award in the Virginia Index of Performance program for exceeding state and federal accountability standards. It has been named a School of Excellence seven times over the last 10 years and is recognized by the state as a Distinguished Purple Star School in Prince William County for its commitment to meeting the needs of military-connected students and their families. 
Jacks holds a bachelor's degree in elementary education and early childhood development from Grove City College, a master's degree in educational leadership and supervision from George Mason University, and completed his doctorate in educational leadership and policy studies from Virginia Tech.
Jacks has earned many other professional awards, publications, and achievements, and said he is really good at puzzles. He and his wife, Kristine, have three children who all attend PWCS schools.
The
National Association of Elementary School Principals
provides advocacy and support for elementary and middle-level principals in the United States and internationally. NAESP supports principals as the primary catalysts for creating lasting foundations for learning through policy and professional learning, advocacy, programs, and resources for effective instructional leadership.