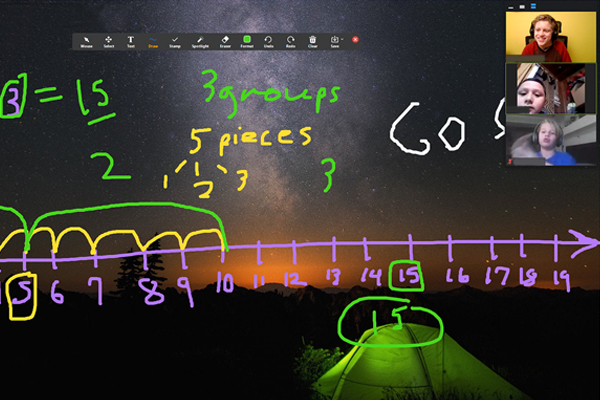 After school hours on a weekday afternoon, Charles J. Colgan, Sr. High School senior Joshua Forgas and junior Kesa Hamner are meeting over Zoom with a Coles Elementary School kindergartener and a first grader. One of the high school students is counting while another is drawing a visual representation of addition problems on a whiteboard. The Coles Elementary students are actively engaged in the lesson, and when they grasp the math concept, all four students smile and become excited. This is an example of the successful tutoring program created through a partnership between Colgan High, Benton Middle School and Coles.
The partnership started when Tara Hamner, English to speakers of other languages (ESOL) teacher, reached out to the National Honors Society (NHS) club members at Colgan and the National Junior Honors Society (NJHS) club members at Benton Middle, in search of math and reading tutors for her students. Eighty-eight middle and high school students responded within a week with offers to help.
"The NHS and NJHS students are outstanding students who know how to learn and have proven to be academic leaders in their schools," Hamner explained.
The Coles tutoring team includes Julie Keaney, ESOL teacher, Kathy Miller, reading specialist, Heather Mainwaring, school counselor, Kathryn Forgas, principal, and Hamner. They identified students who would benefit from tutoring, then Veronica Mejia, school secretary, called the families of the students to offer the service. Over 90 students at Coles are now receiving weekly tutoring for 30 minutes to an hour and a half from Benton and Colgan students.
Hamner explained, "The Coles students and their tutors have been matched for academic continuity and to help form positive relationships. Each tutor was supplied with appropriate academic material for their specific student to help them grow. The tutors have added their own creativity and energy to their sessions, which has been amazing for the Coles students."
Helping with the tutoring program has become more than just earning service hours for the NHS and NJHS students. "My favorite thing about tutoring the kids is seeing them grow. Within a few weeks, they are making progress. I love the eagerness to learn and complete assignments. Tutoring makes my day," explained Mogale Stewart, a junior at Colgan.
Colgan junior Steven Gestrich shared, "When I got into my first tutoring session, the third-grader I was teaching was so energized and I could tell that they were going to be fun to work with. We had our first session and when I returned from the zoom breakout room, I still saw the energy and happiness of the children and thought to myself that this was going to be an awesome experience."
The Coles students enjoy receiving praise from their tutors. Emerson, a third-grader, said, "I like tutoring because I learn new words and I like the books my tutor chooses for me to read. He knows what kind of books I like."
The tutoring sessions are scheduled on Mondays and Wednesdays using Zoom. The Coles tutoring team observe the sessions.