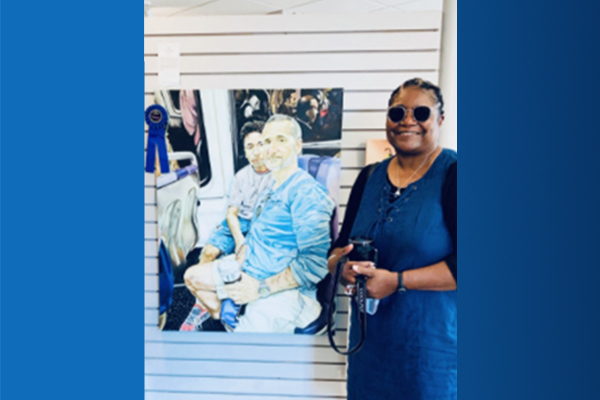 "The Train Ride Home," a painting by Beryl Jazvic, art teacher at Mary Williams Elementary School, was selected for the "Best in Show" award at the Statewide "Virginia is for Artists" exhibition, held at the Virginia Beach Art Center earlier this year. A second oil on canvas piece that Jazvic submitted, "Fishing Day," was one of three images featured on the cover of the exhibit event's invitation.
In her comments about the winning pieces, exhibit judge, Dr. Anne Wolcott, wrote that the painting is not a typical portrait. Rather, you are "drawn in by colors, lines, expressions that show control and technique...it actually connects with your eyes."
"I want the viewers to feel that moment of pleasant calm and peacefulness I felt when I created this painting," said Jazvic, in her interview. "This happens to be my husband and my son. I felt a sense of loyalty, pride, belonging, and happiness between father and son."
As an educator, Jazvic said that teaching art is her passion and that art is an expression of oneself, so she encourages her students to use their artwork as often as they can to express themselves.
Visit the
Virginia is for Artists Awards Presentation Facebook page
for additional information.