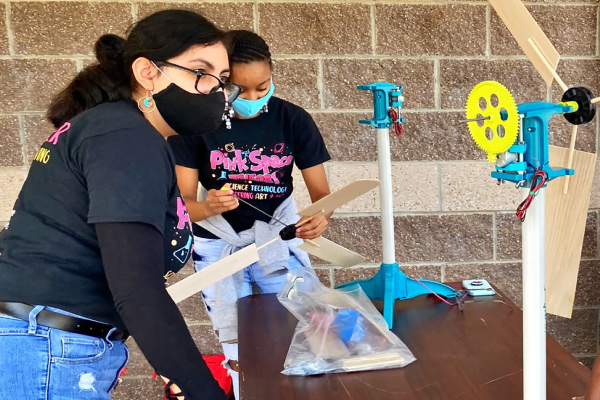 Building solar-powered boats, designing wind turbines, creating at-home compost stations, and assembling a model rain barrel are some of the hands-on projects that girls from Fred M. Lynn and Potomac Middle Schools participated in during a seven-week workshop aimed at presenting lessons about renewable energy, sustainability, and careers in science, technology, engineering, art, and math (STEAM). The workshop was funded by a grant from Dominion Energy and awarded to Pink Space Theory to implement.
Jessica Doiron, the center for environmental and natural sciences coordinator at Freedom High School, applied for the grant, then coordinated the workshop with Pink Space Theory, a nonprofit organization dedicated to connecting underserved and underrepresented youth, especially girls, to hands-on STEAM learning opportunities. Students attended virtually and in-person for an hour and a half once per week.
At one of the in-person sessions, students met at Potomac Middle to build and test model wind turbines. During other sessions, students were provided with materials and met virtually to build a model rain barrel and a solar-powered boat.
"The workshop is important because there continues to be a lack of women STEAM careers in our country. Exposing these middle school girls to hands-on, project-based learning opportunities and career opportunities in STEAM will help these girls see the long-term value of STEAM programs. In addition, the workshop is aimed at increasing participants' knowledge of the importance of green energy and environmental stewardship," Doiron explained.
Workshop participants also learned valuable lessons such as how to look at difficult and challenging experiences from a different perspective and how to turn losses into wins and opportunities. These lessons were based on the book "Sometimes You Win -- Sometimes You Learn," by renowned leadership author John C. Maxwell.
Miriam Redmer, a sixth grader at Potomac Middle, said, "The Girl Power program has really encouraged me to follow my dreams no matter what obstacles might be in my way."
Community partners, including Keep Prince William Beautiful, Friends of the Occoquan, Project Learning Tree, Lifeline Coach, and George Mason University, also helped with the workshop.