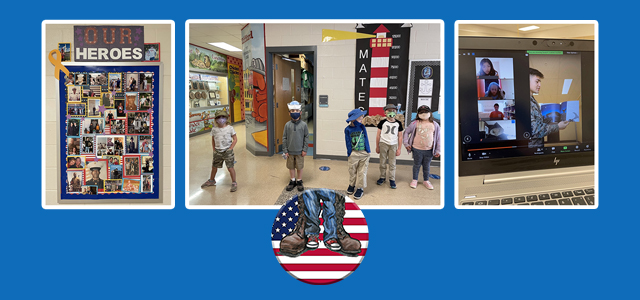 Samuel L. Gravely Elementary School, named for the Navy's first Black admiral and the first African-American to serve as a fleet commander, was designated a 2020 Virginia Purple Star school for demonstrating a major commitment to students and families connected to our nation's military. That commitment was exemplified this April, the Month of the Military Child, as the entire school community came together to celebrate their military-connected students, in person and virtually.
The school's Purple Star committee, led by Julie Breton, ESOL teacher and 20 plus year military spouse, planned and carried out activities for each day of the Month of the Military Child Spirit Week, observed April 19 - 23.
"They say military kids are the symbol of the dandelion and that they will bloom wherever they are planted," shared Breton. "We are lucky to watch these amazing kids bloom here at Gravely and happy to celebrate them this week to remind them how special they are."
Principal Michael Kelchlin provided a link to his read-aloud from "H is for Honor: A Military Family Alphabet," and each day, a military child and/or their families were featured on the Gravely morning news. These students and family members were able to share how special and unique it is to be a military child.
The committee tied purple ribbons around the cafeteria and created a military-kids bulletin board to remind students that like their service family members, they are heroes too.
To close out the week, several Marines from Quantico volunteered to read aloud to Gravely students. They recorded the videos on Flipgrid so that the teachers could share them in person and over Zoom.
Corporal Miguel Quintana Medina looks forward to opportunities to volunteer. "Every volunteer event is different, and I enjoy the mystery of not knowing what to expect," shared Cpl Medina. "Every person you meet knows something you don't so learn from it!"
Sarah Colvin, fifth-grade teacher at Gravely and a member of the Purple Star Committee, pointed out that the staff and students at the school recognize military members in many ways throughout the year, but this year's spirit week placed a special emphasis on military children.
"Our school has the special honor of carrying on Admiral Gravely's legacy," shared Colvin. "Our hope is that students can learn more about the sacrifices an entire military family makes. We want students to realize there are many small, yet meaningful, ways that they can support military families in our community."