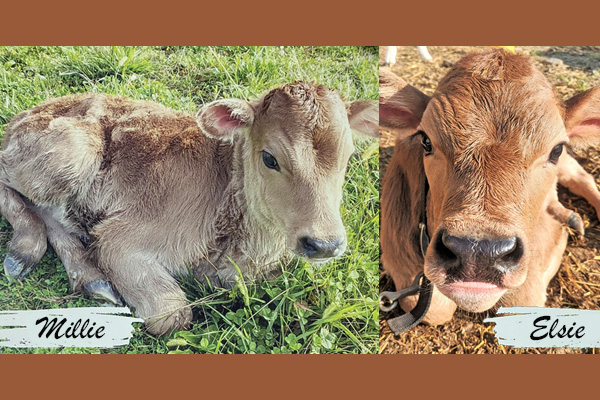 Millie the cow is officially the class pet of Nathalie Crawford's first grade class at Marshall Elementary School, while Elsie the cow is viewed as a family member by Virginia Pre-School Initiative (VPI) students in Emily Sasz's class at Featherstone Elementary School. Both calves are making learning more exciting.
Crawford's love for animals sparked her desire for her class to adopt a class pet. While scrolling through social media, she came across Discover Dairy, an organization that coordinates an adopt-a cow-program for classes. Crawford filled out an enrollment and then was registered to adopt a dairy calf for the school year.
Every year, Sasz teaches her VPI classes at Featherstone Elementary about the farm. Her lessons usually include hands-on learning through Virginia Cooperative Extension's 4-H Embryology project, which involves caring for chicken eggs. But after seeing an advertisement by Discovery Dairy, she thought adopting a cow would be a better fit for this school year.
Discover Dairy connected the classes with Catawba View Dairy farm in Fincastle, Virginia. Millie, who was born on October 6, 2020, was paired with Crawford's class, while Elsie, who was born on September 21, 2020, was paired with Sasz's class. Millie and Elsie are Jersey calves.
Discover Dairy also provided activity sheets and suggested lessons for students, while Catawba View Dairy sends photos and information throughout the school year to show how the calves are growing.
Both teachers incorporate their adopted cows into class lessons. For example, during a science lesson about animals, Crawford's students learned what Millie needs to survive.
"We have also talked about the differences between wild animals and domestic animals and how Millie is a tame (domestic) animal because she is cared for by her owner," Crawford explained.
Millie will also make an appearance in an upcoming lesson about facts and opinions and a compare-and-contrast unit.
"They love having Millie as our class pet and look forward to the updates from our host farm. They want to go visit her at her farm one day," Crawford said.
Sasz's students have learned what Elsie eats and that she has her own bedroom, called a calf hutch.
"They want to send her cards because she is a part of our school family. We wish we could visit her," Sasz shared.
At the end of the school year, Catawba View Dairy Farm will invite students to a live chat with their adopted cow via YouTube.