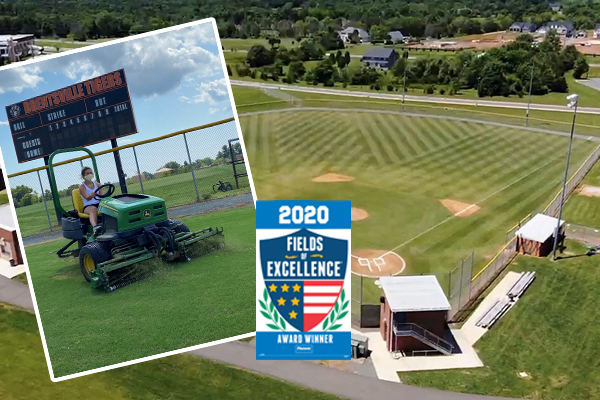 Mara Brooks, Katie Dawson, and Erin Ketner make up the leadership team of Brentsville District High School's turf program, and together, they helped make 2020 one of their best years yet. Brentsville District High received not one, but three Fields of Excellence Awards from Pioneer Athletics for the beautiful, well-cared-for fields at the school. The winning fields include,
Donald Lambert Football Field
,
Sean Russell Cutsforth Memorial Baseball Field
, and
Brentsville Softball Complex.
As we all know, last year posed many challenges for students across the country, but the students in the turf program at Brentsville High did not let it stop them. They take pride in their fields and were able to continue to safely work on and meticulously care for them over the course of the year.
"What we have been able to create here in the Brentsville turf program is something special!" stated Dawson. As a result, the leadership team decided that the students deserved recognition for their efforts and perseverance in making the fields beautiful.
"After all the hard work and dedication put into working on the fields this year, I was so excited to be able to write and submit the application," shared Brooks.
Drew Miller, sponsor of the turf program at Brentsville, was equally excited to see the students take the initiative and apply for the awards. "(It was) great to see them win after all they have been through and all their hard work," Miller said.
Congratulations to the Brentsville High School turf program.