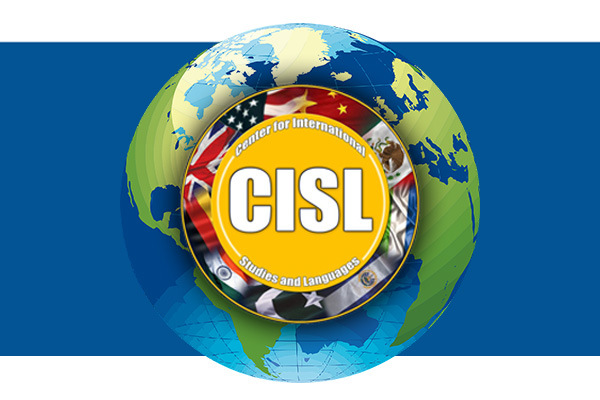 Approximately 150 people who wanted to understand other cultures and help resolve conflict in our world took a step toward those goals when they participated in the "Connecting with the World: People, Places, Language, and Culture" conference through the C.D. Hylton High School
Center for International Studies and Languages (CISL)
. This was the 23rd year for the conference, which brings students, parents, PWCS faculty, community members, and others together for a day of fun and learning with the aim of increasing global awareness and sharing international perspectives. This year, the conference was held virtually on Zoom.
Kicking off the morning was keynote speaker, Dr. Mark C. Thaller, managing director of Jebel Associates, a company focused on risk management in Iraq, Liberia, Afghanistan, Uganda, Djibouti, Sudan, and in South Sudan, where Thaller lived and worked for nearly 10 years independently and on behalf of the U.S. Government. Thaller also serves as the senior advisor to the minister of federal affairs for the Republic of South Sudan. He is the parent of two students who attend PWCS schools and serves as a senior advisor for Kyle's Campaigns for Change, an organization that helps Type-1 Diabetics worldwide, and Spread Your Wings, which promotes education and empowers young women in South Sudan. His work has taken him to countries all over the globe.
In his keynote, Thaller targeted some remarks directly to CISL student participants. He urged them to find ways to get out of their comfort zones, interact with those from diverse backgrounds, and immerse themselves in global situations. He suggested that by doing so, their learning curve on international issues would improve exponentially over those who only study cultures from a book or in a classroom. And, by sharing his own youth experience and that of others, he demonstrated that grades are not a predictor of accomplishments.
"It's what you want and it's how you approach doing it," said Thaller, on the importance of what matters in setting and achieving life goals. "Don't get caught up in the barriers, just get outside your comfort zone. Don't be held back by any preordained or pre-established norms. If you're going to do something, do it 110 percent and have fun doing it or don't bother doing it at all."
Following the keynote address, the conference offered four 50-minute break-out sessions about a wide variety of international topics and different countries. Presenters included PWCS educators, students, parents, and program graduates, and in addition to local citizens, some of the session presenters hailed from areas well beyond the Washington metro area, including Roanoke, Virginia, the states of Mississippi and Colorado, and other countries, including Colombia, Germany, and Italy. Session titles ranged from "Why Ghanians Insult Each Other So Much and Why It Works" to "Protecting the U.S. President around the World," and "My Journey as a Bosnian War Refugee," among many others.
The event is coordinated by Betsy Campagna, assistant principal at Hylton High and coordinator for the CISL program, and co-hosted by a committee of current student leaders of the CISL Program.
In a non-pandemic year, the CISL Conference notably treats its guests to onsite food choices from four international restaurants. This year, attendees were encouraged to try a new and different cuisine from any one of the many locally owned restaurants in the area. A few special discount deals were available only to participants the day of the conference and could be used for lunch pick up or later for dinner.