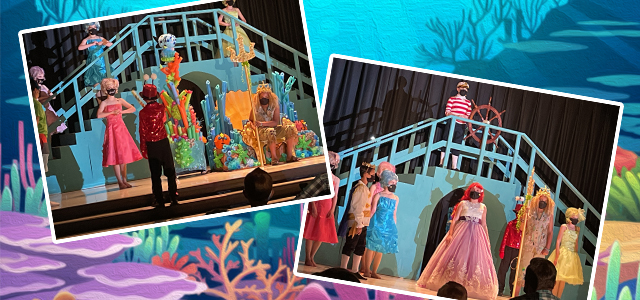 Families were transported on an enchanted trip 30,000 feet under the sea with Cedar Point Elementary students' performance of "Disney's The Little Mermaid Jr." The students enacted a well-known colorful tale of a curious mermaid named Ariel, who likes to explore and collect human objects despite her father's wishes.
Sixth grade student Lily Buffkin did a magnificent job in the role of Ariel, acting with great feeling conveyed to the audience as she continues her explorations and comes across Prince Eric, played by sixth grader Anthony Bodner and fifth grader Eric Lawson (each participated in three performances).
The show was impressive in both scope of production and performance. The play resembled more of a high school level production with a riser onstage. In addition, students changed costumes several times, enveloping the audience in the story, and bringing it to life. The performance consisted of 20 scenes from beginning to end, complete with scenery changes in between. Both students and adults, dressed in all black, collaborated to quickly clear the stage of props from scene to scene with speed and great attention to the smallest detail.
The play is a long-awaited performance by the Cedar Point Elementary community because it was originally scheduled to open last spring and was canceled due to the pandemic-related school closure.
Musical Director Amy LaFleur said, "It was disappointing to the students who had worked so hard rehearsing for the play, so when the play was revived for this year, all the students from last year's cast were invited to participate."
Students who participated in this year's play are now in fourth, fifth, and even some sixth-grade students returned to participate. Students rehearsed for several months for the play both last year and this year. Some aspects of the play were modified, such as appropriate distancing between students on stage, and ensuring students had face coverings.
"I'm really proud of how our students have adapted to the COVID-19 guidelines in place. They learned to emote with their eyes," remarked LaFleur. Indeed, students used their singing and speech, as well as nonverbal cues, such as using their arms and hands to act effectually.
LaFleur added, "Musicals are very important to all the parties involved in putting on the play. One of the lessons we've learned through this whole experience is the importance of patience and perseverance. To be able to bring it back to life-everyone is excited to finish what we started a year ago. The most important thing to me [about musicals], is creating something from nothing. This year is really special to me because the students had to wait and trust, and most of them came back to be in the play, and I'm so incredibly proud of them."