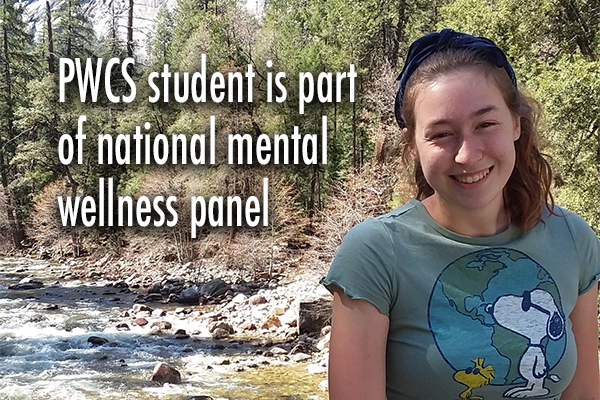 Gabrielle Carter, a 2021 graduate of Osbourn Park High School who also attended the Governor's School @ Innovation Park (GS @ IP), participated as one of five students on a national student panel about student mental health and wellness in schools. The panel discussion took place virtually at the 2021 Student Mental Health Summit held this spring by the National Consortium of Secondary STEM Schools (NCSSS). The summit presented the latest research performed at NCSSS member schools and included a student panel discussion about the successes and barriers to student mental wellness in schools. The Governor's School @ Innovation Park is a NCSSS member school and Dr. Jason Calhoun, the school's director, serves on the NCSSS board of directors.
"The challenges faced this year in education were unlike any we've seen in a very long time," said Calhoun. "At the NCSSS student panel about student mental health, Gabrielle was able to speak thoughtfully and truthfully from a student's perspective on their tangible struggles during this pandemic. We know how challenging this year has been, and hearing the panel speak reinforced how critical it is that we identify methods to support our students' and educators' well-being."
In sharing details about her experience on the panel, Gabrielle said she received valuable insights from other panelists. The peers shared ideas from their schools about ways to support student mental health that she hopes can be considered at GS @ IP and in PWCS.
"I was honored that Dr. Calhoun and the other Governor's School staff thought me to be a good representative for the event, and I happily obliged," said Gabrielle. "I'm extremely glad I did, because even just at the rehearsal Zoom, my fellow panelists and I had some extremely important conversations about student mental health. We shared our thoughts on mental health struggles during online learning, the normalization of stress in today's students, peer-to-peer connections being a vital part of student mental health, and how school administration can sometimes inadvertently create a barrier for students seeking support."
Gabrielle graduated with an advanced diploma and three academic letters. Under Dr. Elizabeth Romano, biology professor at GS @ IP, she has conducted scientific research exploring the carcinogenic properties of a chemical compound on an organism and has assessed golf course restoration as a method of combating deforestation and habitat loss. Additional contributions Gabrielle carried out this year include volunteering at the Manassas National Battlefield Park, working under the park biologist, assisting with invasive plant surveys and their removal, performing park maintenance, and geographic information system (GIS) mapping, and other volunteer work. She will attend University of California, Berkeley in the fall.
The
NCSSS organization
works to advance STEM education by providing professional development and networking opportunities for educators and learning experiences for students; to serve as a national resource for STEM schools and programs in partnership with educational, corporate, and international organizations; and to inform policymakers on STEM education.