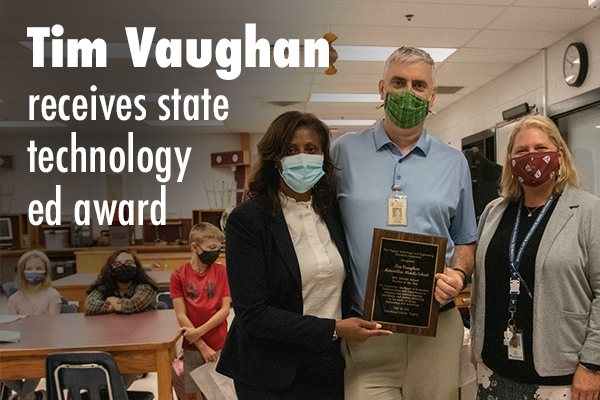 The Virginia Technology and Engineering Education Association (VTEEA) has named Tim Vaughan, technology and engineering education teacher at Marsteller Middle School, as the 2021 Virginia Middle School Technology Education Teacher of the Year. The award was presented at the VTEEA summer conference, held virtually this year.
Vaughan was first nominated for local recognition by his colleagues and was then selected at the Northern Virginia regional level earlier this year, putting him in the running for the state award. This award is one of the highest honors given to technology and engineering education teachers and recognizes a teacher's outstanding contributions to the profession and to students.
Superintendent Dr. LaTanya D. McDade presented a recognition plaque to Vaughan in his classroom on the first day of school. He will also receive the International Technology and Engineering Educators Association (ITEEA) Teacher Excellence Award at the ITEEA's 84th annual conference in Orlando, Florida, scheduled to be held in March 2022.
While Vaughan always had an interest in engineering, he says it was his grandmother's example that led him to education.
"My grandma was an elementary school teacher in Ireland; she inspired me to get involved in teaching," said Vaughan, who has been teaching at Marsteller Middle for nearly 20 years and taught in Dublin, Ireland, for 13 years prior to that. "My high school engineering teacher in Ireland inspired me to get involved in the [engineering] field. With the addition of technology, the field is always changing, and you have to evolve; I like it because you have to keep adapting to stay current. With new technology and new procedures, you have to stay on top and it keeps it fresh."
At Marsteller, Vaughan also serves as the department chair for exploratory arts and foreign languages. During 2020, he designed a mentoring program for all students at the school, and he was featured in a
news story on ABC News
about a virtual beehive tour video he created for science colleagues and students.
"It is my philosophy that, while we are allowing our students to "have fun," we must also foster a desire for research, allowing them to explore various careers supplemented by related hands-on activities," said Vaughan. "I have always believed that students must be given the opportunity to investigate and explore using the problem-solving process. Project-based learning is an essential educational strategy in my classroom. Allowing students the opportunity to witness firsthand the design process from project inception to conclusion seems to simplify engineering for most students. When students use these concepts and apply them to other subjects and real-life situations, it gives me great satisfaction."