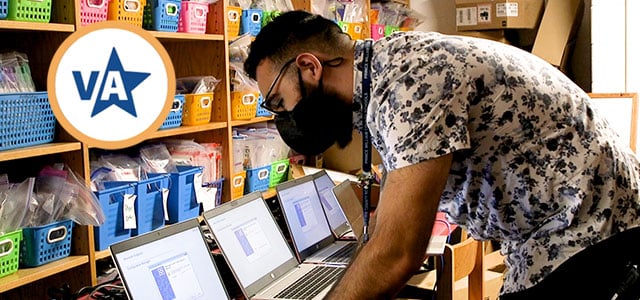 The Virginia Student Training and Refurbishing (VA STAR) program began in 2010 at Forest Park High School in collaboration with a state initiative with the goal of introducing students to the field of computer repair. The program has grown rapidly over the years and is now in 92 schools spanning 56 school districts throughout the Commonwealth of Virginia. PWCS boasts 18 schools in the program ranging from elementary to high school.
The program teaches students to repair and refurbish computers, which are in turn given to schools or families in need. Mike Wiczalkowski, Virginia administrative state coordinator for VA STAR, credits the program with giving students the opportunity to earn information technology industry certifications such as A+ and Cisco, while providing hands-on, real-world experience.
The VA STAR program helps prepare students for the next step in their career and in PWCS, offering them the unique opportunity to secure a job back in the schools they once attended. In fact, six recent Forest Park High graduates who participated in the program have been hired as technology support specialists (TSSPECs) in PWCS this year. Their hard work and extensive content knowledge are invaluable assets to PWCS.
"By hiring students who have come through the Virginia STAR program we are able to create an outstanding pipeline of our own students who graduated high school and can go straight into rewarding career paths without having to go to college," shared Matt Guilfoyle, PWCS' chief information officer. This allows the Office of the Chief Information Officer to provide "support to every student and teacher to ensure that they have the technology they need to be successful in the classroom and at home."