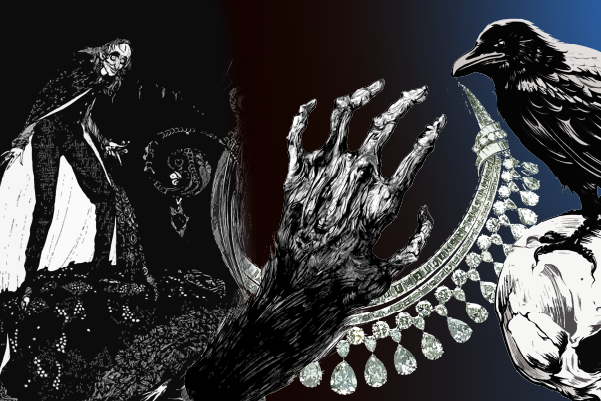 As a special treat for the eighth-grade classes at Marsteller Middle School, and to culminate the end of the horror unit covered as part of the English curriculum, students participated in a virtual field trip to the Chamber Theatre. Students viewed plays covering the literary works they studied in class including, Edgar Allen Poe's, "The Tell-Tale Heart," and "The Raven," W.W. Jacobs' "The Monkey's Paw," and Guy de Maupassant's "The Necklace."
As part of their literary analysis, students identified and described common or universal themes in the four works such as, "be careful what you wish for," "be grateful for what you have," and "being honest is the best policy." Students created Venn diagrams to make comparisons between the texts. They also identified different literary elements, such as mood, setting, plot summaries, characters, and conflict.
Eighth-grader Riley Keith shared enthusiastic remarks about the horror unit and all the activities the students participated in, stating, "I really liked the horror unit, and hope for something similar in the future. I love the way we watched video clips, read the story, and then analyzed what we saw. Talking about it together helped us all comprehend what we just watched/read. The theatrical productions virtual field trip was also a lot of fun! We got to watch over all of the story's we previously read [in class]. It was relaxing and we were still learning and interacting with each other talking about the clips."
Susan Moorefield, an eighth-grade language arts teacher at Marsteller Middle, utilized this virtual field trip as a non-stressful way to reinforce the lesson, sharing, "Our students could benefit from another presentation of these classics to help ensure they got the message and that all levels of learning were addressed." Moorefield also shared that watching actors act out scenes and displaying various emotions, provides students with a different perspective, interpretation, and understanding of the written works studied in class.
As part of the grade eight English curriculum, students learned how to analyze and respond critically to literature and were able to draw conclusions from each story through group discussions.