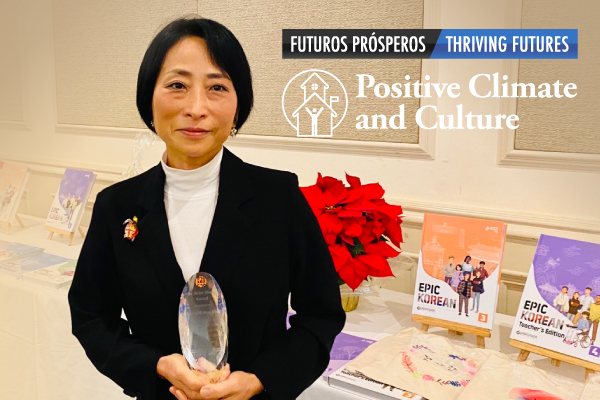 The Foundation for Korean Language and Culture (FKLAC) in the United States has awarded Kay Choi (Kyung mi Kay Choi) with the distinguished Ailee Moon Award for championing Korean culture and language and being a model of excellence in her profession. Choi has been a master teacher of French and Korean at C.D. Hylton High School, which houses the division's Center for International Students and Languages. Her nomination declares her a champion of Korean culture and language, a role model of excellence in preparing students for the 21st century global workforce and community.

Choi has established herself in PWCS as a very successful teacher of French for 16 years, teaching through the Advanced Placement level. In 2015, under the guidance of Carol Bass, supervisor for the PWCS World Languages program, Choi helped create the school division's first Korean course and subsequent levels of Korean studies through level four. Since then, she has 90 non-heritage students choosing to study Korean at Hylton High School with her, despite the other languages this specialty school has available for study, including Arabic, French, German, Italian, Russian, and Spanish.

Choi's efforts to build collaborative, meaningful community connections have led to leadership involvement with the Korean Embassy and nearly annual school visits by embassy liaisons. She sponsors a Korean Cultural Club at Hylton High, with 37 student members and has sponsored her students for study abroad scholarships, including through such international opportunities as the U.S. Department of State's National Security Language Initiative for Youth (NSLI-Y) program, which aims to promote critical language learning among American youth. She has promoted students for the Global Korea Scholarship Invitation Program to visit Korea and even had students go on to attend Yonsei University.

Bass, shared, "Being of Korean heritage and tri-lingual (English, French, and Korean), Mrs. Choi has always been one of our most respected, caring, committed, and authentic role models of embracing eastern and western languages and cultures, hence being in the perfect setting as an inspiring human resource for all students in grades 9 through 12 at this international studies high school. She won the hearts of her students from that first class of 30 students who registered to take Korean 1 in 2015."