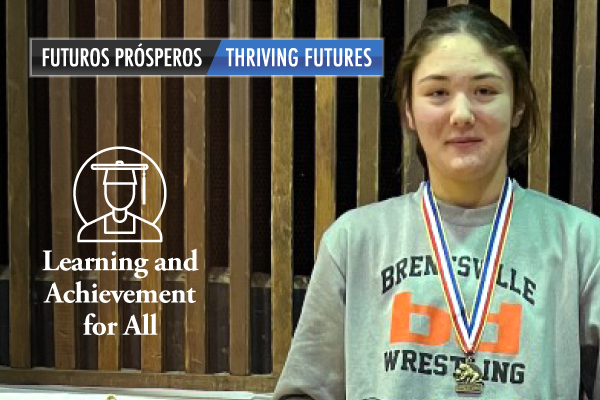 Brentsville District High School sophomore May Cuyler is the first-place winner of the 2022 Virginia Girls' Wrestling Championship that took place at Hayfield Secondary School in Alexandria, Virginia. Cuyler was one of eight in her weight class of 136 pounds. She had a total of 11 pins and zero points were scored on her.

When asked what it felt like to wake up as the state champion for girls' wrestling, Cuyler shared, "I felt the same, but when I saw my mom's phone full of messages congratulating me, it made me happy because I didn't realize I had accomplished something that special."

Cuyler credits her coach and teammates for helping her achieve her goals. "The coaches always make sure I know what I am doing. My teammates always support me and make sure I am happy and healthy enough to wrestle, and that really goes a long way."

This is Cuyler's third win in all girls' wrestling competitions this past winter season. Her other two victories took place at the 6th Annual All Girls Invitational at Culpeper County High School in Culpeper, Virginia, and another competition at Orange County High School in Orange, Virginia. While there is currently no female wrestling division sanctioned by the Virginia High School League; this annual competition gives female wrestlers in Virginia the opportunity to compete on the state level.

Rick Adams, head wrestling coach at Brentsville High, shared, "Cuyler shows up every day and has never missed a practice. She is one of the hardest workers in the room, and always has a smile on her face when she throws one of the boys [wrestlers]. We want more girls to join [wrestling], and May has paved the way. Hopefully, people can see May's success and come try wrestling at Brentsville." Adams added that any student at Brentsville interested in wrestling can participate: "everyone makes the team."

Cuyler also participates competitively in Judo. She placed third in the United States of America Judo Junior Olympic Championships that took place in Winston-Salem, North Carolina. Cuyler is ranked third in the nation under the category of National Roster Female International Judo Federation (IJF) Junior (Born 2002-2007) in the 63 kg weight division.