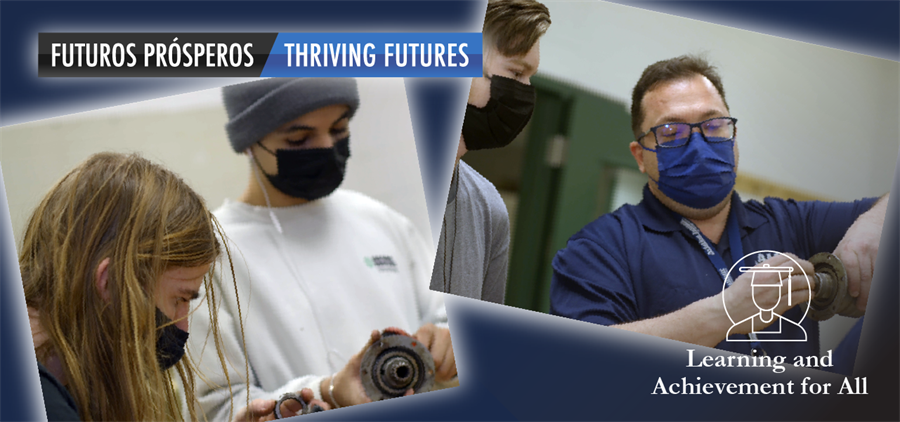 A youthful fascination with "the history of planes, especially World War II aircraft," is what led Woodbridge High School junior, Aaron, to take the Aviation Maintenance course, making a significant impact on thoughts for his post-secondary path.
A similar curiosity was expressed by fellow classmate, Aidan, who shared, "I live between an airport and a marine base, and would see a lot of planes and helicopters flying over, so I became interested in how they work."
Aaron, Aidan, and almost 30 students at Woodridge, and Unity Reed High are taking Aviation Maintenance I and II. This Career and Technical Education course is taught by instructor, Scott Kenney, who is also a program coordinator with the Aviation Institute of Maintenance.
"The growth rate in aviation is higher than we've ever seen it before," exclaimed Kenney. "Because of COVID, a lot of the technicians who were working for the airlines were given early retirement."
Kenny also shared a subsequent industry-wide scramble for new technicians to fill a projected need of "300,000 mechanics, world-wide, by 2025."
Woodbridge sophomore, Ahmed, recommends the course to interested students. "It's been a lot of fun with hands-on projects... and I've also enjoyed the field trips. I feel like I've been learning a lot this year." said Ahmed.
Aaron, Aidan, and other students expressed an interest in aviation maintenance as a career.
"Within five to seven years, you can actually make over $100,000 a year as an aviation mechanic" proclaimed Kenney, adding that "the airlines are always, always hiring."