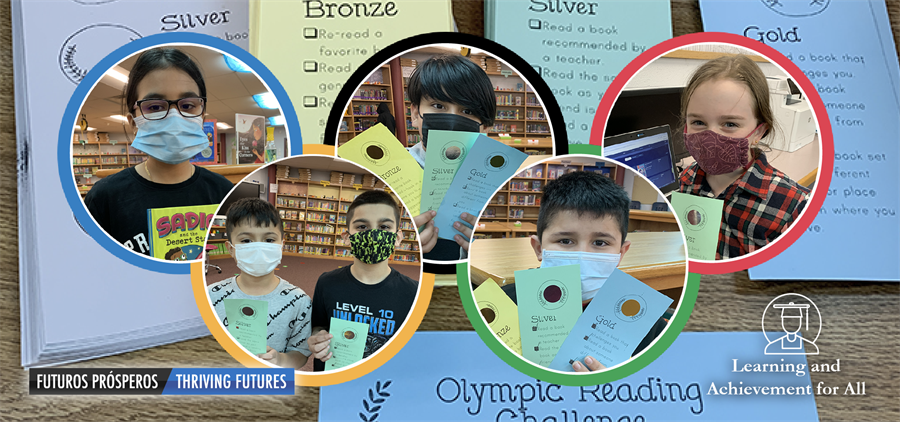 Elementary school students participated in an Olympic competition. The Olympic reading challenge that is. The fun challenge encouraged students to explore new interests in their reading selections.

The Olympic reading challenge was developed by school librarians, Tanya Parrott from The Nokesville School, Sabrina Tucker at Bristow Run Elementary School, Kathy Stavros from Signal Hill Elementary School, and Carolyn Vibbert at Sudley Elementary School. They created a list of nine challenges that were divided into bronze, silver, and gold medal levels. Students earned a medal by completing the challenges at the level. For example, reading a book suggested by a friend is a bronze level challenge.

A gold level challenge was to read a book about someone different from you. Laura, a fourth grader at Sudley Elementary, chose "Sadiq and the Desert Star," by Siman Nuurali.

"I really enjoyed reading the book. It's about a boy named Sadiq. He lives in Minnesota, but his family is from Somalia. In the book, when Sadiq talks to his dad, he says 'Baba,' which is a common term for father in Somalian."

Students visited the library after completing the list of challenges to receive their bronze, silver, or gold sticker. To make the moment fun, Vibbert selected a country's national anthem to play while presenting the student with their sticker. They also used the time to talk with Vibbert about the books they read.

Vibbert explained, "I think it's really important that we ask students to participate in reading experiences that we as adults might like. Sometimes I like little reading challenges to help me explore new books. But, as an adult, I don't want to write down my page numbers, how long I read, or even list every book I read unless I can keep it private. I just wanted a little way to keep our students going as readers -- something a bit exciting, but low pressure. Sometimes we have to feel like readers before we can BE readers. And I want every student to feel like a reader rather than only someone who is learning to read."

At Sudley, participation was optional, and Vibbert left some flexibility for completing the challenges. For example, if a teacher re-reads a favorite class book, then all students could check off that challenge on their bronze level bookmark.

The challenge was scheduled to end on the same day of the closing ceremony for the Winter Olympics, but Vibbert plans to continue accepting completed bookmarks and presenting stickers as long as students continue to submit them.

The team of librarians who created the challenge shared details of the activity with all elementary school librarians.

"I keep a shared Canvas course where I'm always dropping in resources. I think if I can take a few extra minutes to share great activities that I'm using, then I might make someone's day a little easier," Vibbert explained.

Julia Haggerty, Marshall Elementary School's librarian, took advantage of the generosity to also host the Olympic Reading Challenge at her school.