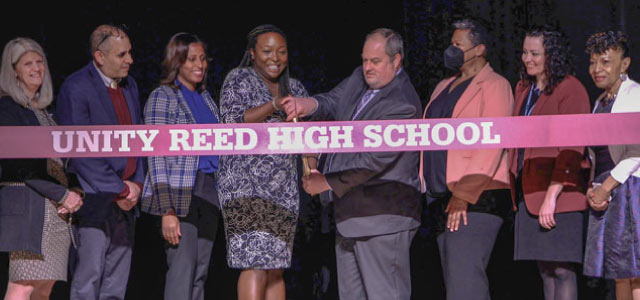 Students, teachers, staff, and community members celebrated the renaming of Unity Reed High School, formerly Stonewall Jackson High School, in a ceremony on March 24. Unity Reed High is in the Brentsville District, serving students in ninth through twelfth grades. 

The renaming ceremony was delayed due to COVID-19. In June 2020, the Prince William County School Board approved a resolution to rename Stonewall Jackson High School to Unity Reed High School. Unity Reed honors the legacy of Arthur Walter Reed Jr., long-time security assistant at Stonewall Jackson High School, now Unity Reed, who was beloved by students and staff. The resolution also recognizes that Reed was the clear favorite amongst the school community for the renaming of the school. 

Principal Dr. Richard Nichols hosted the renaming ceremony in the school's auditorium. 

During the ceremony, speakers spoke of their excitement for students and staff under the promise of the new school name.  

"Unity represents this community coming together as one. The name Reed honors a man who was a pillar of this community and role model for every single student who came through the doors of this school," shared Superintendent of Schools Dr. LaTanya D. McDade.

School Board Chairman At-Large Babur B. Lateef, M.D. said, "I couldn't agree more with what Dr. McDade said about the name Unity Reed serving as a source of inspiration for every student. And Mr. Reed's life certainly serves as an inspiration to us all."

"The students at this school have an impressive namesake to look up to in Mr. Reed. Mr. Reed had great dedication and respect for this school. Mr. Reed was a man who was loved and respected by those who met him," explained School Board Vice Chairwoman, and Brentsville School Board Member Adele E. Jackson.

Reed's daughter, Ariel Reed-Singh, shared her heartfelt thanks with the school community for honoring her father's legacy, "My father would have been humbled by the outpouring of love and support this renaming effort has received."

The Unity Reed High School Vocal Ensemble started the ceremony with the National Anthem under the direction of David Mann, as well as a Presentation of Colors by the school's Air Force JROTC, under the direction of Lieutenant Colonel Darryl J. Robinson. Another student performance followed, with the vocal ensemble performing Unity Reed's Alma Mater with lyrics by the Unity Reed High School Class of 2021, the first graduating class under the new school's name, followed by a poignant song, "No Time," arranged by Susan Brumfield with Lee Ann Renfro accompanying on the piano.  

After Dr. Nichols finished cutting the ribbon for Unity Reed, he thanked all guests for attending this momentous occasion.