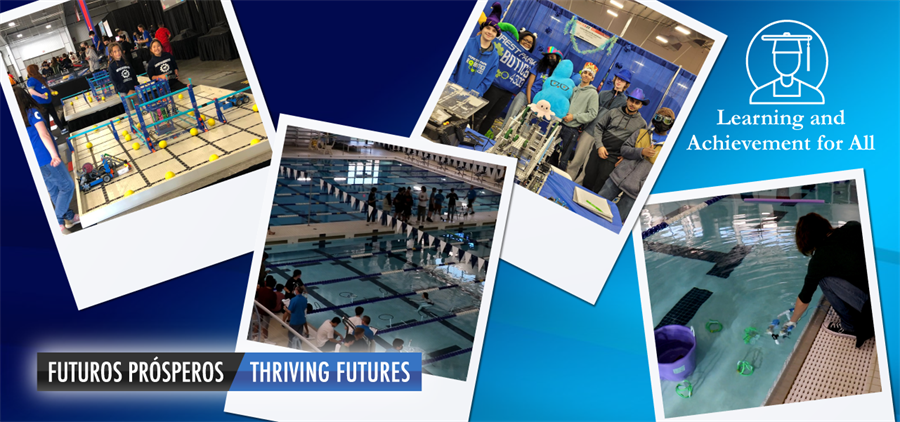 Record number of teams represented at the VEX State Championship

More than half of the elementary and high school teams, and more than two-thirds of the middle school teams competing in the annual VEX State Championship were from PWCS. Congratulations to these winning teams:
VEX IQ - Elementary School
Amaze Award: 10300A - AshlandFalconbots (Ashland Elementary)
Judges Award: 20414A - Antietam Robotics (Antietam Elementary)
VEX - Middle School
Design Award: 1481F - The Ivy League (Gainesville Middle)
Judges Award: 84927A -G.O.A.T. (Porter Traditional School)
Energy Award: 1489F - Fire Distinguishers (Bull Run Middle)
VEX - High School
Tournament Finalists and Amaze Awards: 1575Y - YoYo (Woodbridge High)
Design Award: 20164X - SharkBots (Charles J. Colgan Sr. High)
Judges Award: 1575M - Maximus (Woodbridge High)
Innovate Award: 6603A - Aluminites (Patriot High)
Build Award: 4303A- Aftershock (Forest Park High)
Create Award: 13150A - Aristocratic Avocados (Gainesville High)
Energy Award: 4303X- Mental Breakdown (Forest Park High)
Northern Virginia's Regional SeaPerch Challenge showcases underwater robots in action

Over 350 students on 60 school teams from Prince William County faced off in the PWCS Aquatics Center. Students maneuvered remotely operated vehicles (ROVs) in underwater challenges, including obstacle courses and contests that tested recovery and collaboration.
Patriot High School
Axloltls
Patriot Stingrays
The OctoPirates
Le Fishe
Kappas
Unity Reed High School
Charles J. Colgan Sr. High School