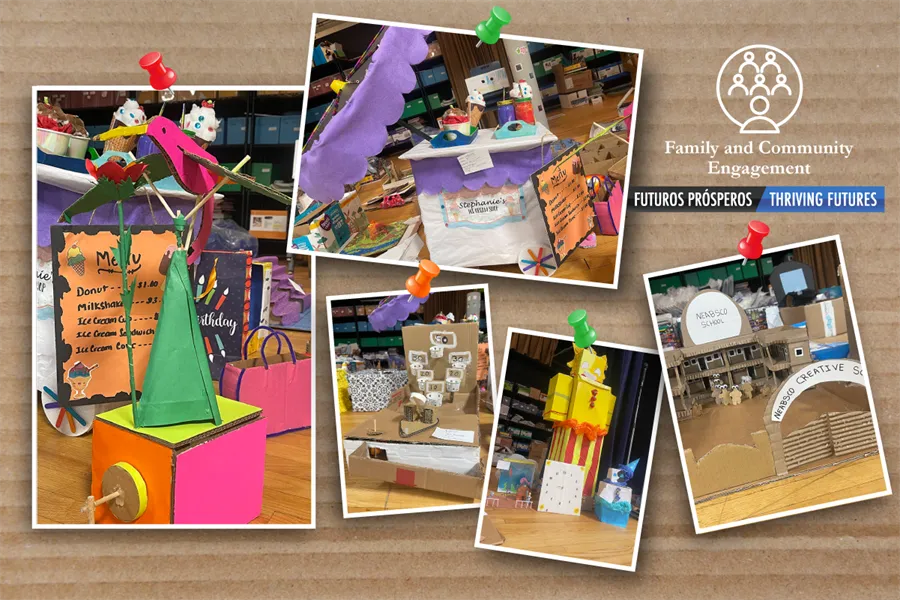 From an ice cream cart to volcano to New York City maze, students' creativity was on display at Neabsco Elementary School's first annual Cardboard Challenge hosted by the Student Council Association (SCA).
Inspired by the Global Cardboard Challenge, students were tasked to create anything they wish with a cardboard box and submit them to the school cafeteria for display. The SCA then hosted a family event for families to see the creations and vote for their favorite. Overall, 65 students submitted projects and nearly 140 family members attended the event.
"Our students found success and achievement in accomplishing a goal of building something out of cardboard," shared Cindy Lindsay, Title I math teacher and a fifth grade SCA representative. "Students felt a sense of pride when sharing their accomplishments with their classmates, teachers, and community."
While the event fostered student creativity, it also challenged students to think academically in various content areas, including math, science, literature, and engineering. Even more so, it brought the school community together for its first big in-person event this school year.
"Family engagement is important to Neabsco because historically family involvement builds overall student achievement," added Lindsay.