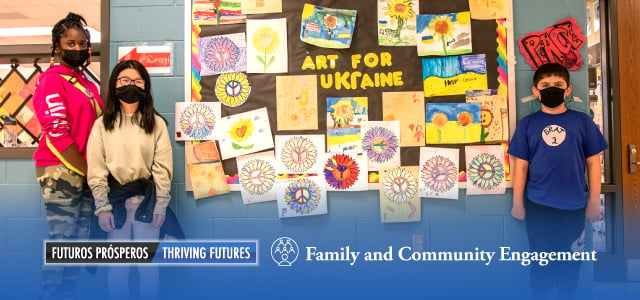 Since the beginning of the school year, art students at Chris Yung Elementary School have displayed their work on bulletin boards for students and staff to enjoy.
With the help of their art teacher, Faith Broome, the students have broadened their exposure to include world audiences. Broome is a member of an international art teacher's group that collaborates and shares art created by their K-12 students.
Recent world events have inspired the young artists to focus their efforts toward supporting students and teachers in Ukraine.
Broome shared that she plans to share the artwork her students created with the international art group. "We have members from Ukraine and the surrounding areas in the group, so we are in the process of putting together Google slides of art specifically created to share with their students and educators. It's a hard thing to talk about with my students, but we are doing what we can to show our support."
The project entitled "heARTfelt expressions" currently contains art representing schools from across the United States, as well as nations in South America and Europe. Chris Yung Elementary fifth grade students are painting sunflowers, the national flower of Ukraine, and younger students are writing notes with drawings.
The final masterpieces are digitized and uploaded to the art group website, where they are included in the collection with other member schools. The original artwork is displayed on bulletin boards outside the art classroom for the Chris Yung community to view and appreciate.