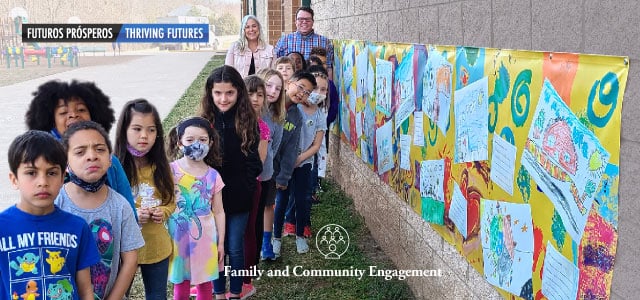 Second grade students at Buckland Mills Elementary School developed a project based on a classroom unit focused on "who we are" in our community. Inspired by the book, "Hey Wall- A Story of Art and Community," by Susan Verde, students explored and reflected upon who they are personally and shared ways they are proud of themselves, their community, and their cultural heritage.

Through reflective discussions, students listened to their classmates' stories and learned more about the diversity and unique properties of the school community. The children were able to form a greater understanding of these values and began to make connections to where they live within their city, state, country, and world.

"By better understanding the concept of community and how important everyone's citizenship is in our larger learning community, we continue to build a more positive and aware culture within our schools," said Amy Hardt, coordinator of the International Baccalaureate Primary Years Programme at Buckland Mille Elementary.

Students documented their ideas through artistic expression, each creating a drawing depicting their personal perspective, just like the characters in the book.

Second grader, DJ Lawson said, "I liked sharing my ideas with my group. I think it challenged me and was fun and interesting."

Student Emma-Beth Norwood added, "I drew about all the countries that make up our community. My family is from Japan. We all live here and share the Earth."

In order to create a cohesive environment for their efforts, each student helped decorate a 22-foot-by-3-foot backdrop for the artwork to rest upon. The final piece was digitally photographed and printed as a banner, now proudly displayed on an outside wall in full view of the playground.

At the completion of the project, art teacher, Andrew Cossaboon shared, "Students continue to impress me with their collaborative, creative, and problem-solving skills. They work well together and are ready to tackle any project to help our school and community."

Principal Kelle Stroud added, "As an IBPYP school, this important work is what we do with our students each day. We encourage our students to be more global in all that they do."