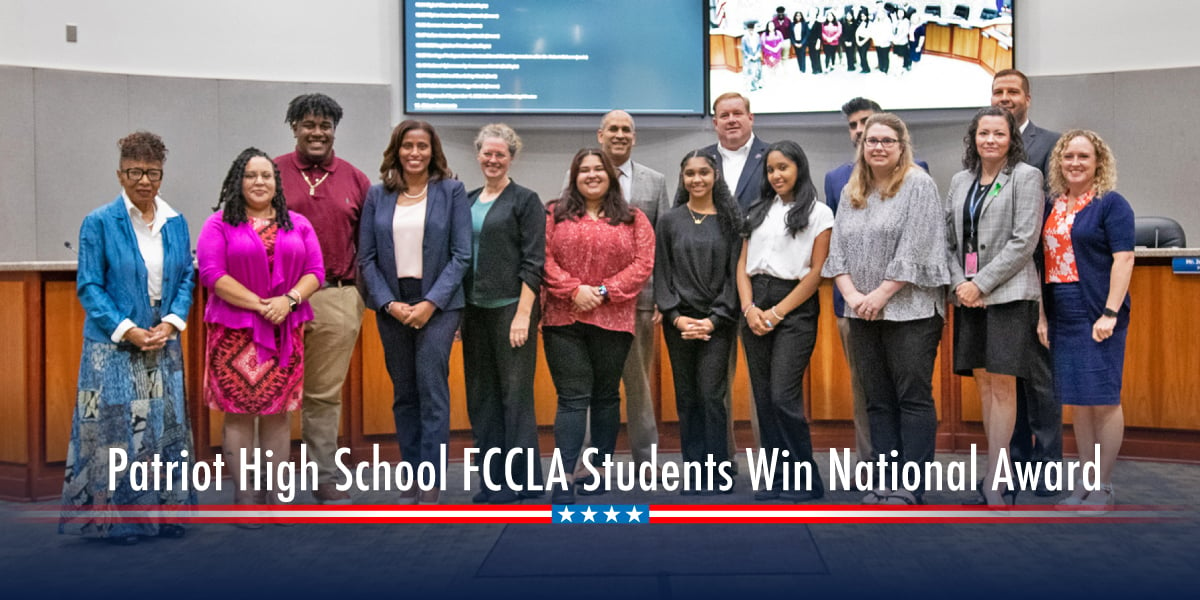 Students in Patriot High School's Family, Career and Community Leaders of America (FCCLA) club are the national high school award recipients for the FCCLA's "Stand Up" advocacy program. The award was given for their submitted project, "No More Trash bags," which focused on collecting donations for foster children. All the collected donations were given to Comfort Cases, a non-profit organization in Rockville, Maryland that provides comfort and personal care items to foster children.
Abby Trapani, Patriot FCCLA president, stated "We feel honored to have been given this award since we worked extremely hard to make sure lives were positively changed with this project; we plan to use the award toward more community service projects and making an impact on our community."
Kathryn Jett-McVea, FCCLA adviser, shared more about the project students submitted for consideration for this national award. "Students collected and filled 48 backpacks with pajamas, books, blankets, […] toiletries, etc. They also made 24 full-size tie fleece blankets for the organization to give out. The Patriot High FCCLA chapter was recognized with a plaque at our National Leadership Conference in San Diego [this summer] and awarded $1,000 to continue our philanthropic efforts."
The "Stand Up" advocacy program is a peer education initiative that allows students to develop, plan, execute, manage, and reflect on their own advocacy or service projects that enhance the quality of life in their community.
Students from the FCCLA club also placed at the individual and team level:
Alyssa Harris, a 12th grade student, presented a "Career Investigation," or a compiled portfolio of career research, interest inventories, evidence of job shadowing, work samples, and Specific, Measurable, Achievable, Realistic, and Timely (SMART) goals. She gave a professional presentation of the portfolio to a panel of judges. Alyssa earned a silver award and placed 18th in the nation.
Siblings 11th grader Rowann and 10th grader Razann Sirelkhatim presented a "Chapter Service Project" that included a display board based on the annual Patriot FCCLA community "Trunk or Treat" event for local elementary students. The pair organized Patriot High classes, clubs, and teams to decorate their trunks and handed out candy to participating children. Rowann and Razann gave an interactive oral presentation to a panel of judges. They were awarded silver and placed 19th in the nation.
Patriot graduates Vlera Baftija and Alana Harris, and 11th grader Abigail Trapani presented "A Chapter in Review," a three-dimensional display encompassing everything the FCCLA chapter completed in the 2021-22 school year presented in a skit to a panel of judges with the theme "FCCLA Cafe." The trio was awarded gold for their presentation and placed ninth in the nation.
Jett-McVea and Jessica Stott-Hinnefeld are the Patriot FCCLA advisors.