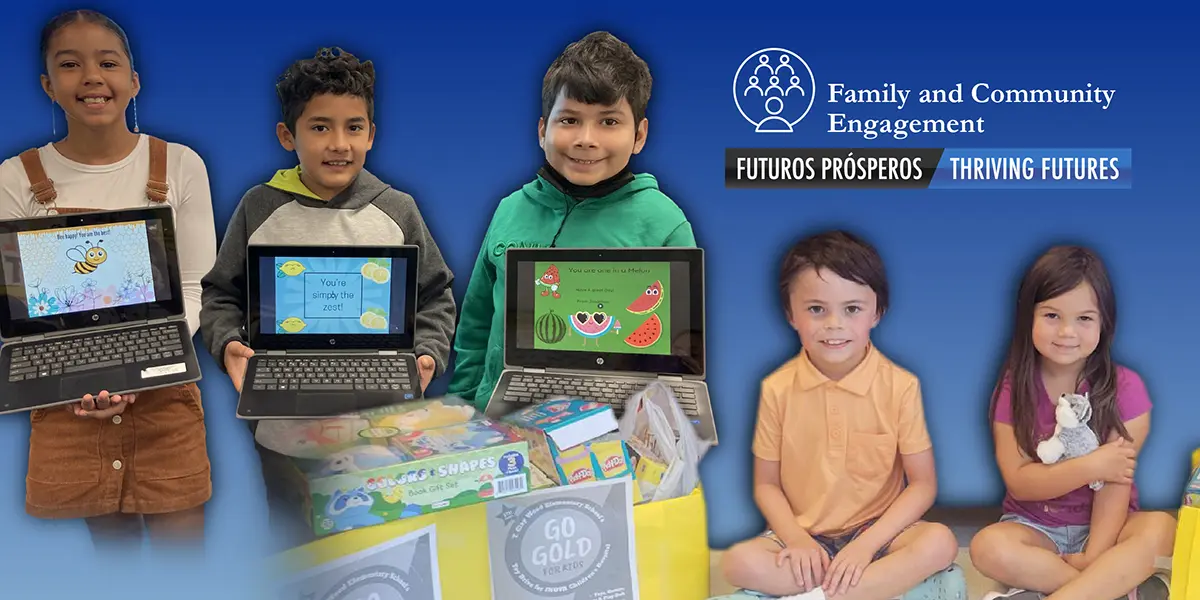 T. Clay Wood and Vaughan Elementary Schools found compassionate and creative ways to bring cheer to young cancer patients in observance of Childhood Cancer Awareness Month. Many in PWCS have a personal connection to someone affected by childhood cancer. As such, these schools are just two of many schools in PWCS that heard the call to support children with cancer at local hospitals and acted.
At Vaughan Elementary, fifth-grade students had the opportunity to use Canva, a graphic design tool, to create digital cards for patients at Children's National Hospital. Nicole Lenard, the instructional technology coach, helped to coordinate the lesson titled, "Puns for Patients," which helps students understand the use of homophones, homographs, and figurative language often found in puns.  This practice also helps second language learners in strengthening their connections to humor, puns, and idioms in the English language, and helps them develop depth as English speakers.
Each card had an uplifting message or quote to support patients staying at the hospital. The computer lesson supports students to be creative digital citizens and learn skills that are relevant in an evolving technological world and prepares them for the future.
When asked why it was significant to have Vaughan participate in this activity for National Childhood Cancer Awareness month, Principal Mark Boyd shared, "Any opportunity we can provide to students to expand their awareness, appreciation, and empathy toward others is fundamental to developing students to be global citizens. National Childhood Cancer Awareness Month is especially meaningful to me as a parent who lost a son, Parker Boyd, to cancer, as well as a principal who lost a student to cancer. Engaging in awareness month activities such as this supports students in learning effective ways to process their own emotions in a positive manner as well as support others in a time of need."
At T. Clay Wood Elementary, students and families found a way to brighten the hospital stay of young patients at Inova Children's Hospital, by collecting new toys such as board games, Legos, Play-Doh, and more. The toy drive is flourishing for the fifth consecutive year.
Ethan Abram, a fifth grader at T. Clay Wood, was excited to donate to the toy drive. "It made me feel really good because I know it was really hard for my dad when he went through chemo treatments, and I can only imagine it's even harder for kids who are going through it," shared Ethan. "Plus, it makes me feel like I helped their parents who are paying for their treatments and might not have extra money for toys at the time."
The school also participates in "Going Gold Day," held annually on the last Friday in September. Students and staff wear gold to raise awareness and support for children facing cancer.
Tammie Dipaolo, a parent at T. Clay Wood, brought "Gold Day" to the school after approaching Karola Scarce, the Relay for Life coordinator at the school about the idea.
Dipaolo shared, "I approached Mrs. Scarce about the first toy collection and 'Go Gold' event in 2017 when my youngest daughter, Ella was one year old and in treatment for an aggressive brain tumor. At that time, Ella's sister, Madelyn, was a first grader at T. Clay Wood. The [school] community, Dr. Buchheit, and Mrs. Scarce's support for this event every year means more than words can adequately express. Witnessing a child going through cancer treatment is brutal and long hospital stays are hard. The toys given to children in the hospital help brighten the day and distract the kids and parents at least for a little bit. I am thankful T. Clay Wood recognizes Childhood Cancer Awareness Month and helps give back to the hospital that treated and saved my Ella, who is now a first grader at [the school]."