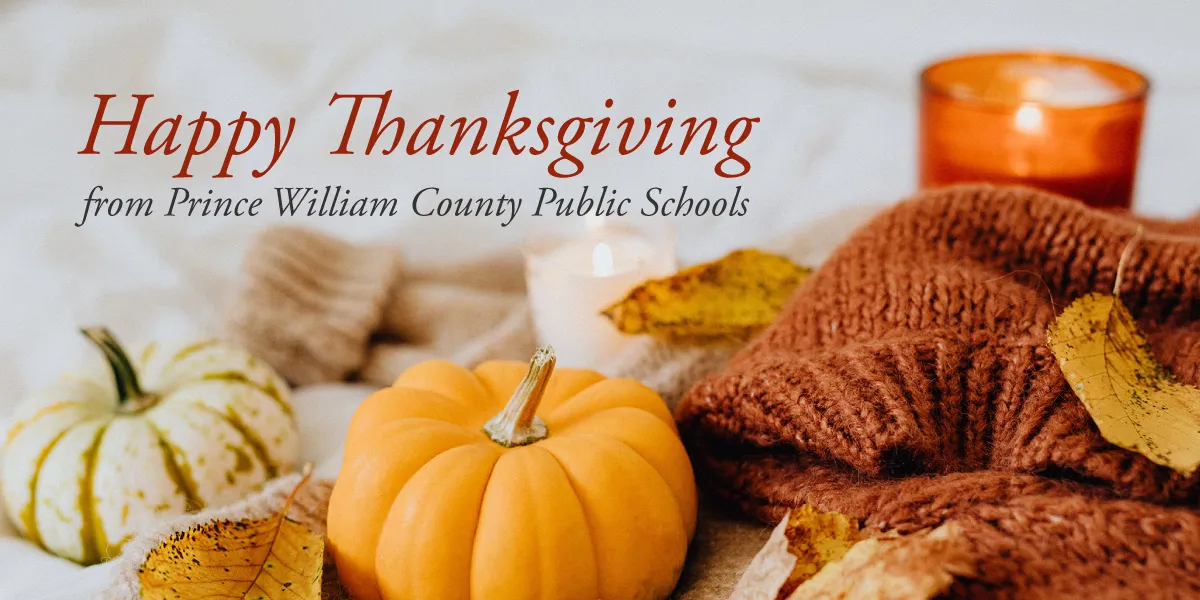 Dear PWCS Families, Employees, and Community,
I am excited to begin this letter before the Thanksgiving break congratulating School Board student representative, Daania Sharifi, recipient of the 2022 Virginia School Boards Association Exhibitors Scholarship. This honor is bestowed upon exemplary school board student representatives who have demonstrated outstanding leadership and community service. We are proud of Daania for her service to launching thriving futures for every student in an inclusive environment.
Please join me in congratulating two PWCS state championships: Brentsville District High School Cheer earned the VHSL 2022 Class 3 state championship and Charles J. Colgan Sr. High School Cheer earned the VHSL 2022 Class 6 state championship. I wish the rest of our student-athletes from Freedom High School and Patriot High School the best of luck in the VHSL playoffs. Our students represent PWCS well in competition and sportsmanship both on and off the field.
Thanksgiving is a time for gratitude as we count our many blessings over the past year. It is also a time to give generously in support of others in need. As I reflect on all that I am grateful for this past year, our PWCS family is top of mind.
I am inspired by our outstanding employees who work incredibly hard every day for the success of our students; I am grateful for the ongoing support of our parents, families, and community partners to ensure student achievement; and I am thankful for every Prince William County Public Schools student for their resilience and dedication to growth. Student success is a team effort, and we each play a critical role in ensuring the PWCS vision is realized for every student to create a thriving future for themselves and their community.
While we are giving thanks to family, friends, health, and wellness, I would be remiss if I did not invite you to give during this holiday season. Many of our local schools have food pantries that serve the community with clothes, food, toys, books, and care. I encourage you to reach out to your local school and find out how you can donate your time, support, or resources. Additionally, you may consider giving a financial contribution to the PWCS SPARK Education Foundation, as all donations directly benefit our classrooms and schools.
As we break for the Thanksgiving holiday, I wish you and your family a restful and safe holiday.
Sincerely,

LaTanya D. McDade, Ed.D.
Superintendent
Prince William County Public Schools