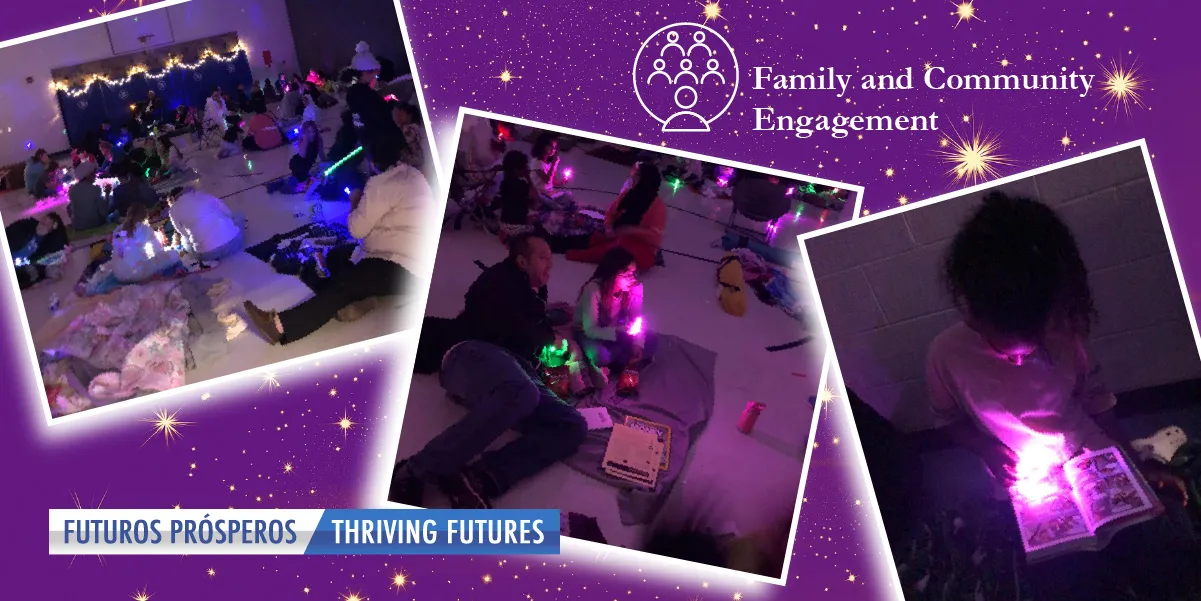 Blankets, flashlights, good books, and glowing stars on the gym's ceiling created the setting for King Elementary School's Reading Under the Stars event. What made it even more exciting is that students and their families enjoyed a fun evening at school.
The event started with students meeting with their teachers for read-alouds while parents attended informational sessions where they met with the school's literacy committee. The sessions, coordinated by Kaitlyn Salfer, Title I reading specialist, provided parents with tips for using Canvas and Lexia, test-taking skills for students in grades three through five, and phonics instruction guides for kindergarten through second grades. 
"I enjoyed the parent learning stations because it helped me understand the curriculum, and it closes the gap between school and home," shared Jessie Pomales, a parent attendee.
During the event's second half, students met their families in the gym, where they enjoyed reading some of their favorite books and checking out new ones.
Salfer explained, "Students were able to bring their own books to read with their family and friends, but we also had a 'bring a book/take a book' table for families to donate and choose different books."
Uzma Ali, a parent, stated, "I attended this event because it was fun to sit together and engage with other King Elementary families."
Rebecca Beard, another parent, shared, "It is important to be involved in my child's education because it fosters an overall positive attitude about school, and it strengthens the relationship between parents and teachers."