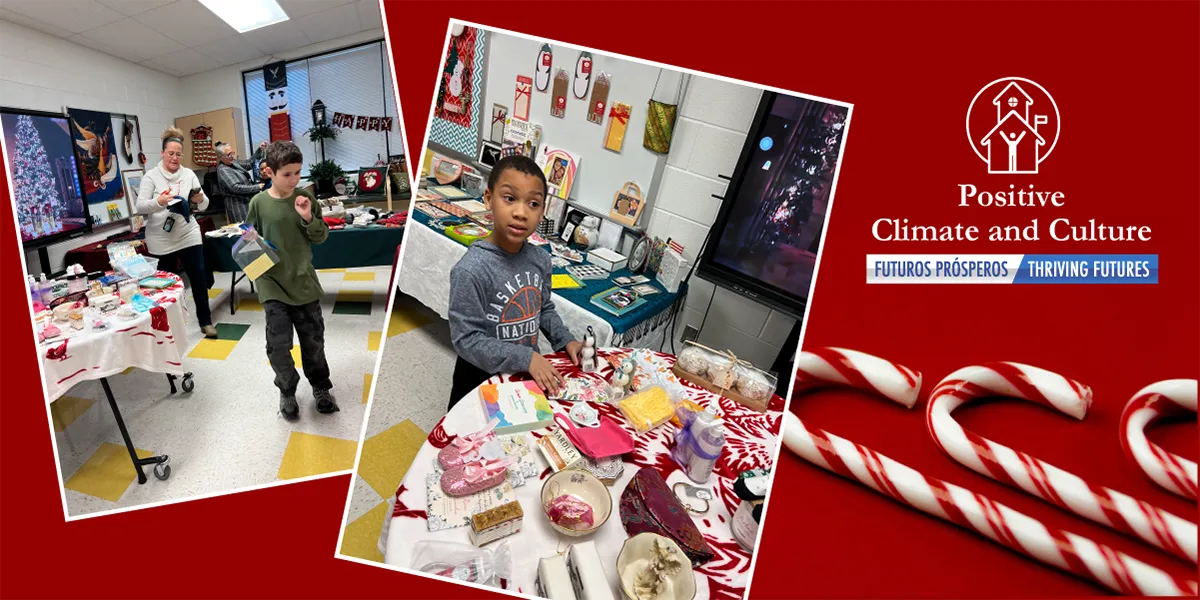 'Tis the season to give! And at PACE West, that's exactly what students are doing. As students practice kindness, social skills, empathy, and giving, they earn "SWAG Bucks" to exchange for holiday gifts for their families at the school's Holiday Bonanza. SWAG stands for demonstrating exceptional behaviors that put Safety first and show that students are Willing and able, Acting kind, and Gearing or regulating their emotions.
"All items were provided and wrapped by our volunteer elves from our local women's clubs and the Haymarket-Gainesville Rotary Club," said Maria McDonald, principal of PACE West. "Gifts will be sent home already wrapped as a surprise for families."
Incentivized spending also teaches students about math through budgeting. It's all part of the school's Positive Behavioral Interventions Supports (PBIS) program.
"Students have responded well to this system, and we have approximately 80 to 85%participation from our students at the major events," said Dr. Tyrone Mathewson, school psychologist. "This creates a culture of caring, acceptance, and empathy within and around our school."
Mathewson shared that the indirect effect of the incentivized events like the Holiday Bonanza combined with PBIS is that students reflect on their behaviors and ways they can be more positive in the school community. He also said that students develop a sense of joy and pride in being able to purchase gifts for loved ones, which leads to positive feelings of self-worth and belonging.
"Having something for the students to earn helps keep students on track and helps them with decision-making," said Randi Giarrizzi, elementary and middle school lead teacher and reading specialist for PACE West.
Giarrizzi noted that the success of the incentivized programs and PBIS depends not only on school support but on external support as well.
"It would not be possible without our parents and community volunteers," Giarrizzi explained. "The volunteers are what make the larger PBIS incentives attainable for our students," stating, "Our volunteers collect from the community and also donate themselves to the events we have."
Giarrizzi concluded by sharing, "The students are always looking forward to the next incentivized event and the behavior and academic criteria needed to earn it."