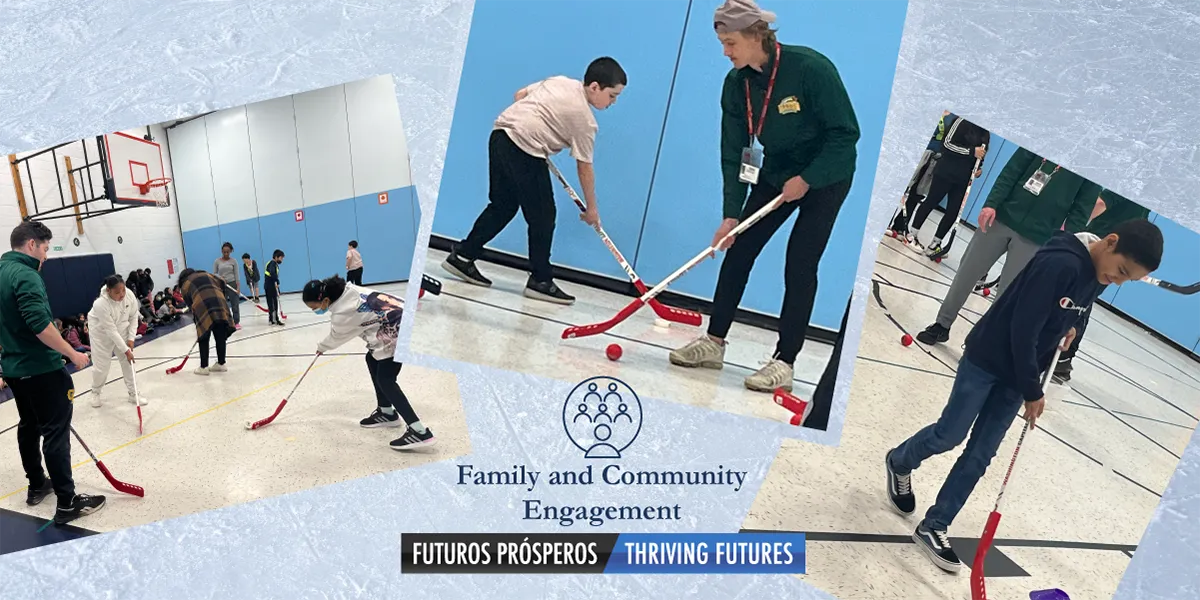 Things have come full circle for a few of the George Mason University (GMU) ice hockey players. As graduates of Prince William County Public Schools, several of the players were eager to share their passion with the fifth-grade students at McAuliffe Elementary School.
"I grew up in this area. It is great to give back to where I was. I remember being in elementary, middle, and high school here, and I remember how important it was to learn all of these different sports," shared Chandler Lynch, GMU ice hockey player and C.D. Hylton High School graduate.
As the fifth graders piled into the gym, the excitement filled the room and their faces beamed as they saw the George Mason players and coach. Shiny new street hockey sticks, pucks, balls, and nets, courtesy of the Washington Capitals, awaited the enthusiastic little hands that were about to meet them.
The students listened intently to the players and the anticipation continued to build. Many of them had never been introduced to the game of hockey. The GMU players handed out the sticks and showed the students a few skills. It was not long before students were racing across the gym with their stick and ball on the way to score a goal. Their classmates, teachers, and the GMU players cheered as they made each shot. A heated competition had ensued. The students picked up the skills quickly and began applying them and even helping one another learn.
Student, Henry David, was one of the most boisterous students on the sideline, cheering for his teammates and encouraging them as they mastered their new skills. "This experience was a lot of fun. We have never done this before. I really liked the passing," he said.
Coach Keith Fagerquist was excited for the opportunity to bring the players out and have them work with the McAuliffe Elementary students. He shared, "A lot of these kids have never played hockey or experienced it, so it is awesome that we are playing with them today. For many of them, it is their first time even holding a stick."
"I was one of the kids that needed a lot of help when I was in school. I wasn't able to focus, and hockey was a way for me to do that. Giving back to the community is a big thing for me and I want to be sure that I can do as much as I can for these kids," said GMU player and Forest Park graduate, Dan McCauley.
George Mason will continue the partnership with McAuliffe students in an on-ice session at Prince William Ice Center and special VIP experience at an upcoming GMU alumni hockey game. This is part of an initiative by GMU to visit schools and give back to the community. It helps to not only grow interest in the game of hockey but introduce kids to a sport they may not otherwise have had the opportunity to be exposed to.