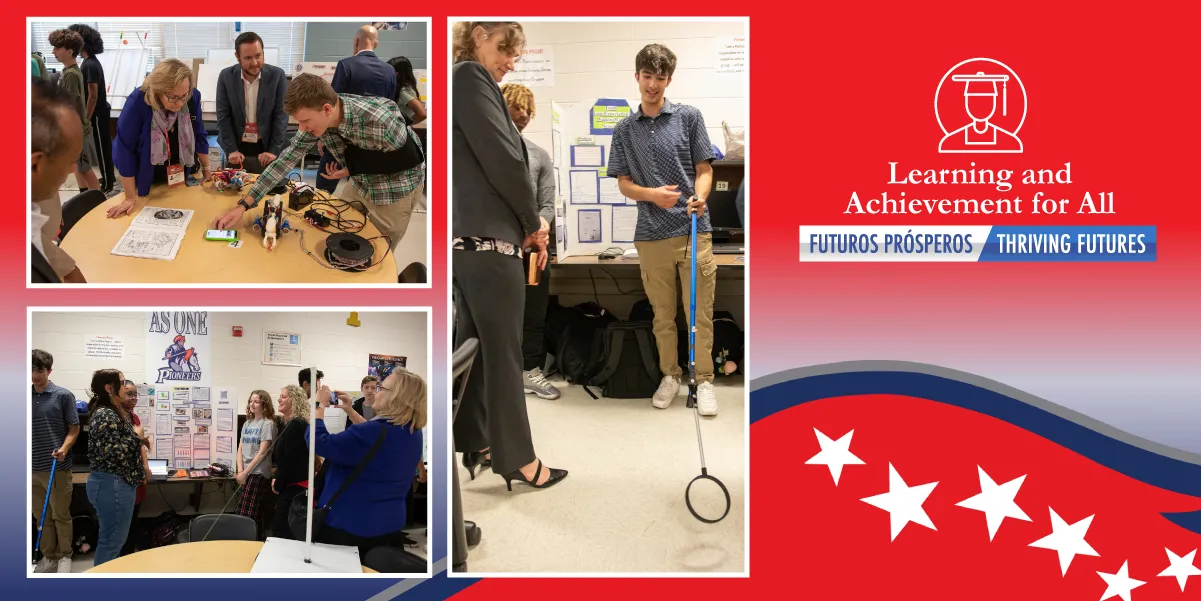 Patriot High School students impressed leadership from Prince William County Public Schools (PWCS), Lockheed Martin, and Project Lead the Way (PLTW) with their yearend capstone projects. Superintendent of Schools Dr. LaTanya D. McDade, PWCS Career and Technical Education (CTE) Director, Dr. Sarah Martin, Stephanie Hill, executive vice president, Rotary and Mission Systems, and Dave Dimmett, president and chief executive officer, PLTW, visited with students, and asked them questions about their class assignment and projects.
Seniors Eddie Henry II and Vincent Smith presented a project they designed together—a walking cane with an arm attachment that holds a plastic bag that can deploy and retract as needed for pets on outdoor walks. The idea to create this dual function tool was inspired by Henry's grandmother, who watched their family dog while they were on vacation and injured her back bending down.
"In Engineering Design and Development (EDD), students take a real-world problem, research it, test it, and present it for review in front of a panel of engineers. Patriot High has been a distinguished PLTW school for six years," shared Greg Quast, technology education and PLTW instructor at Patriot.
Ahmad Abdualmouti, a PTLW senior at Patriot shared his postsecondary education plans, "I applied for an apprenticeship at Lockheed Martin. I'm going to attend Northern Virgina Community College, and then I plan to transfer to Virginia Tech." 
Lockheed Martin's apprenticeship program is called Training Aspiring Locals to Engineer a New Tomorrow (TALENT) Engineering Apprentice in Manassas, Virginia. The program's aim was focused on offering capable high school graduates an early career opportunity with a path for advancement. This challenging program offers graduates a full-time job that includes training, mentoring, and plenty of hands-on experience. Lockheed Martin strives to capitalize on the increasing level of technical expertise that students are developing prior to college through PLTW, CTE, Robotics, and STEM (Science, Technology, Engineering, and Mathematics) programs.
PWCS offers the PLTW Gateway STEM courses in our middle schools and PLTW Computer Science, Engineering, and Biomedical Sciences in our high schools. Classrooms are not traditional but are computer classrooms with portable power hand tools of a smaller scale that students use. Students must apply to be accepted into the PLTW program.